One step at a time. That's what Abid Nabi's coach Mansoor Ahmed taught him.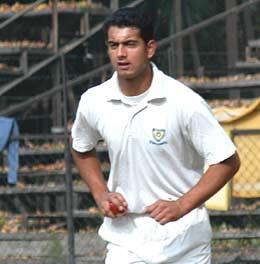 Nabi followed the advice meticulously. The yards from Sonwar were difficult and the barriers many, but the lad has reached farther than any cricketer from the Kashmir valley.
On Tuesday, the 20 year old will become the first Jammu and Kashmir cricketer to represent North Zone in the Deodhar Trophy one-day tournament.
Nabi could well go on to become the first Kashmiri to play for India. Pace guru Dennis Lillee had reportedly recommended him, after S Sreesanth, to Greg Chappell.
"I am looking to break into the Indian team this year itself. I know I have to perform 10, 20 per cent better," says Nabi sitting on the lawns of the Cricket Club of India after the three-day game against the touring England side, where he shared the new ball and castled Andrew Strauss' stumps in the second innings.
"I have achieved half the dream. I always wanted to bowl to an international side," said Nabi, turning back to the ground. "The dream will come true when I play for India."
It was a dream presented to him by his first and, as he keeps adding, "best", coach.
Ahmed, who was his neighbour and coach of his school cricket team, handed him the ball, asked him to become a fast bowler and kept him away from the conflicts in the valley.
"I used to play mohalla cricket in Srinagar. My coach taught me the basics, but never told me I could go this far. He would teach me one skill in a month and we would hone on that. He gave me a motto in life; that's what I live by today."
Once Nabi had the ball in his hand, everything outside the ground faded. All he wanted was to bowl as fast as he could.
"I started at the Amateur Cricket Club. The people over there supported me so much that I forgot about the tensions around. He isolated me and told me I just have to keep on bowling."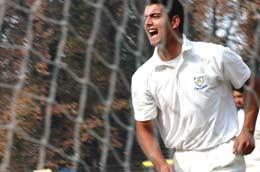 Though cricket is not big in the state, Nabi became part of the organised cricket structure from a very young age. He represented Jammu and Kashmir in national competitions right from his under-14 days.
From playing on school grounds, he graduated to the Sher-e-Kashmir stadium. After taking 10 wickets in four matches for his team in the under-19 tournament he was selected for North Zone and, subsequently, the India junior side. A five-wicket haul against the England under-19 team last year launched him on the national stage.
"I learnt a lot from stints at the NCA (National Cricket Academy) and the MRF Pace Academy (in 2003). The most important aspect was fitness. In Jammu and Kashmir people just keep playing; they are not aware of the importance or science of fitness. I also understood that the fitter I become, the faster I could bowl."
Pace is a big issue with the strapping 6'2" bowler. He believes there are many 'swing masters' in India, but no genuine fast bowler to do the damage front-on, and that's where he can fit in.
The fastest he has clocked is 147 kmph, but, like Shoaib Akhtar and Brett Lee, he makes no bones of wishing to touch the 100 mph mark.
"Why only that? I would like to bowl even faster," he said with a grin.
While Nabi consistently clocks 140, he hopes he can still swing the ball at will, like his hero, Kapil Dev.
"I used to watch Kapil Dev's bowling on television on a programme called 'Cricket Classics' on ESPN," said Nabi, but smiled away when asked whether he got any tips from the great man.
"I saw him once, but didn't have the courage to go up to him and speak."
In his first season with Jammu and Kashmir, in 2004-05, Nabi picked 25 wickets in five matches. He followed it up with 15 wickets this season, and built a reputation as one of most promising speedsters in India today.
For the past few years, smaller centers have thrown up world-class cricketers. Now the battle-torn state of Jammu and Kashmir might have just unearthed its own cricket hero.
Already, youngsters, earlier discouraged to take up cricket because it did not provide jobs or any security, have been inspired by Nabi's exploits. The son of a mason is knocking on the doors of India's biggest sport. His would be interesting steps to follow.
Photographs: Javeed Shah