Pakistan became the first side to retain the ICC Under-19 cricket World Cup after their fast bowlers produced a truly remarkable performance to bring them back from the dead in a thrilling final against India in Colombo on Sunday.
They appeared out of the match after their arch-rivals bowled them out for just 109, but man-of-the-match Anwer Ali Khan (5-35), Jamshaid Ahmed (2-24) and Akhtar Ayub (3-9) turned things around in spectacular fashion.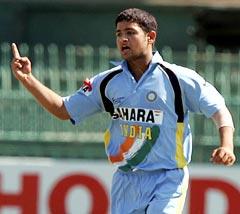 Anwer and Jamshaid reduced India to 9-6 in 3.2 breathless overs before the meal break and although India's lower order dug in after the interval they could not rescue the situation.
India were bowled out for 71 in only 18.5 overs, their lowest total in ICC U/19 World Cup history, beating the 77 they made against Bangladesh in 2002.
Pakistan's victory meant they joined Australia (1988 and 2002) as the only sides to win the tournament twice after their previous success in Bangladesh two years ago.
And Anwer Ali Khan produced the best figures in an ICC U/19 World Cup final, surpassing India's Piyush Chawla, who captured 4-8 in the Pakistan innings.
Anwer Ali Khan and Jamshaid Ahmed bowled like men possessed and effectively won the game with their opening bursts.
Left-armer Jamshaid gave his side a dream start when he bowled Gaurav Dhiman off the inside edge from the first ball of India's run-chase before Anwer took over in a remarkable second over of the innings.
He trapped man-of-the-tournament Cheteshwar Pujara leg before wicket second ball for no score, and then bowled Rohit Sharma (4) and Mayank Tehlan (0) all in his first over, at the end of which the score was a remarkable 8-4.
Jamshaid continued the carnage in his next over, bowling India captain Ravikant Shukla (4) with a fantastic away swinger to the left-hander that clipped the top of the off-stump.
Then, amazingly, in the next over, still only the fourth of the innings, Debabrata Das (0) was caught and bowled by Anwer Ali Khan off bat and pad to leave India in chaos and Pakistan in dreamland.
It was the signal for the interval and after a session like that, everyone needed a break!
Anwer Ali Khan had an astonishing 4-5 from just 1.2 overs while Jamshaid Ahmed had 2-4 from two overs.
Despite their predicament India still needed only 101 to win at that point and had 46.4 overs left to get those runs so the question was whether Pakistan's bowlers could maintain their momentum after the break.
Ravindra Jadeja (6) departed to Anwer to give him a fifth success to leave India at 23-7 but then Chawla and Pinal Shah dug in to add 39 and give their side renewed hope.
At that point Pakistan captain Safaraz Ahmed threw the ball to his third seamer Akhtar Ayub and he wrapped up the innings and the match in double-quick time.
Akhtar had Shah (16) caught by Safaraz behind the stumps then removed Vijaykumar Yomahesh (3) with an inswinger and Mohnish Parmar (0) with a delivery that clipped the top of off-stump, taking the last two wickets in three balls. Chawla, who did not deserve to be on the losing side, was left 25 not out.
It was the cue for wild Pakistan celebrations and Indian dejection, emotions that scarcely seemed possible just a couple of hours earlier.
Pakistan's batsmen had been humbled by spin as Chawla, Jadeja (3-18), Rohit Sharma (1-17) and Parmar (1-9) caused havoc.
Left-armer Jadeja came on as early as the fifth over after Pakistan made a flying start and he and Chawla immediately dropping into a superb rhythm.
After the first three overs of the innings went for 24 runs, the next 17 cost just 36 runs and five wickets.
Chawla dismissed the two batting heroes of Friday's semi-final win against Australia, Ali Asad (2) and Riaz Kail (0) in the space of three balls with Asad bowled behind his legs and Kail playing no shot to a googly.
The leg-spinner, who only joined up with the India squad on the eve of the tournament after helping Uttar Pradesh to the Ranji Trophy, also ensured the Pakistan tail did not wag
He removed Syed Imad Wasim, stumped by Shah for one and then dismissed last man Akhtar Ayub, bowled by a top-spinner, for three.
When Chawla dismissed Asad and Kail Pakistan were 49-5 and their lowest ever total in ICC U/19 Cricket World Cup history, 70 against England in 1988, looked under serious threat.
Rameez Raja (25) ensured that score was passed but he, like every other Pakistan batsman, was unable to break the shackles against the Indian slow bowlers.
Scorecard
Pakistan Under-19
Nasir Jamshed c Ahmed b Jadeja 18
Ali Khan c Shah b Yomahesh 10
Mohammad Ibrahim lbw b Jadeja 0
Rameez Raja lbw b Sharma 25
Ali Asad b Piyush Chawla 2
Riaz Kail b Piyush Chawla 0
Sarfraz Ahmed st Shah b Bipinbhai 15
Anwar Ali c Pujara b Jadeja 17
Imad Wasim st Shah b Piyush Chawla 1
Jamshed Ahmed not out 1
Akhtar Ayub b Piyush Chawla 1
Extras (b 3, lb 4, w 7, nb 5) 19
Total (all out, 41.1 overs, 173 mins) 109
Fall of wickets: 1-24, 2-25, 3-39, 4-49, 5-49, 6-78, 7-93, 8-103, 9-103, 10-109
Bowling: Yomahesh 8 0 32 1 (3nb, 1w), Dhiman 1 0 5 0 (4w), Ahmed 6 1 15 0, Jadeja 8 1 16 3 (1nb, 1w), Piyush Chawla 8.1 3 8 4 (1w), Sharma 6 0 17 1, Bipinbhai 4 1 9 1
India Under-19 (target: 110 runs from 50 overs)
G Dhiman b Jamshed Ahmed 0
C Pujara lbw b Anwar Ali 0
R Sharma b Anwar Ali 4
Ravikant Shukla b Jamshed Ahmed 1
M Tehlan b Anwar Ali 0
D Das c & b Anwar Ali 0
R Jadeja c Nasir Jamshed b Anwar Ali 6
Piyush Chawla not out 25
P Shah c Sarfraz Ahmed b Akhtar Ayub 16
V Yomahesh lbw b Akhtar Ayub 3
PM Bipinbhai b Akhtar Ayub 0
Extras (b 1, lb 2, w 6, nb 7) 16
Total (all out, 18.5 overs, 107 mins) 71
Fall of wickets: 1-0, 2-5, 3-8, 4-8, 5-8, 6-9, 7-23 , 8-62, 9-71, 10-71
Bowling: Jamshed Ahmed 7 2 24 2 (1nb, 1w), Anwar Ali 9 0 35 5 (6nb, 4w), Akhtar Ayub 2.5 0 9 3 (1w)
Photograph: ICC | www.iccu19cricketworldcup.com