After weeks of controversy, India coach Greg Chappell is in the mood for positive talk.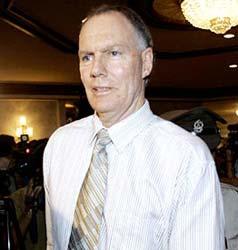 "Let us talk positive about cricket and the Indian cricket team," he asserts. 
Chappell is happy with Rahul Dravid's appointment as Indian captain for the home series against Sri Lanka and South Africa.
The former Australian captain, who was involved in an ugly controversy with Sourav Ganguly last month, has reportedly been pushing for Dravid as skipper.
He says he is not worried about Sachin Tendulkar and Virender Sehwag's loss of form.
"Both Sachin and Sehwag are great players," he told rediff India Abroad Senior Associate Editor Onkar Singh during an exclusive interview at the Taj Hotel in Chandigarh.
Are you happy with Rahul Dravid's selection as captain?
I am pleased that Rahul has been given full charge of the team.
His selection is a positive indication for Indian cricket.
Some people say he has not been able to deliver when he stood in for Sourav Ganguly.
People will say what they have to, but he never got a full series to prove himself as captain.
Rahul has all the qualities of a good captain and should be able to prove himself in the next few series.
I have a good working relationship with him. I look foward to work with him and prepare the team.
Do you think that the present Indian team is good enough to carry on till the World Cup?
The World Cup is too far away. I should be able to answer your question only at the beginning of 2007.
We have a long way ahead and we got to work hard. A lot of work needs to be done. We would be working towards it and we could give you a better idea perhaps one-and-a-half years from now.
Is Indian cricket going to look up?
I hope so. We have a lot of talented players in the side and some others are knocking at the door.
Given the right group of players, we have to knit them into a team and it does take sometime.
You look at the English team. It is a team that has been really developing. It has been a four or five year process. Nothing changes overnight. It is something that continues to develop, players continue to develop, and so the team continues to develop.
Teams keep regenerating. This keeps the youth going.
Virender Sehwag is going through a lean patch.
Most players go through such patches in their careers. They have good periods and they have bad periods.
Sehwag is a special player with a special role within his team.
I don't think you can judge every player because they all have different roles.
Have Mohammad Kaif and Yuvraj Singh improved?
They have improved tremendously. They are maturing as cricketers and as individuals. The process of learning is a never ending one.
Sachin Tendulkar is still in the process of learning. In fact, I am also learning.
It is a process that continues not just in cricket or any other game, but in life. You keep learning different things all the time.
The same is true of Yuvraj and Kaif.
One leading newspaper has commented that Greg Chappell has taken over Indian cricket.
People will be making their assessments and I can't be worried about what people have to say about me or my job.
I am doing my job to the best of my ability.
How do you assess Venugopal Rao?
He is one of the players who pushed himself during the Challengers Trophy with two splendid innings (98 and 101).
I am glad he is working hard on his game.
Sachin Tendulkar has not done as well as he was expected to do during the Challengers games.
Sachin is a big match player and has a special place in the side.
He is a master batsman and one should not make hasty decisions about his performance in a few innings.
One should remember that he has come back to cricket after a long lay off. He is a great batsman and can return to form at any point of time.
We need to give him time. He is a quality player and quality individual. He has a number of important roles to play within this Indian team.
Is your coaching assignment turning out to be more difficult than you imagined?
I would not say it is much more difficult than anticipated. I would say it is pretty much as I had visualised it.
It is a very demanding job and one of the most interesting coaching jobs in the world of cricket.
It is a challenging job and I am sure it will continue to be challenging.
I am comfortable with any team that is given to me.
Complete Coverage: Indian cricket's Mahayuddh