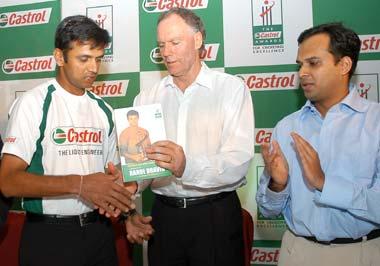 Greg Chappell releases Rahul Dravid's biography, titled The Nice Guy Who Finished First in Bangalore on Thursday, as the Indian captain and author Devendra Prabhudesai look on.
The book documents the triumphs, tribulations and trials of Dravid, who emerged as a cricketing legend of the country. It also contains some of the finest photographs captured during his career, besides a fact file.
After the release, Dravid said ''This biography holds a special place for me as it succinctly captures some of the most passionate and intense cricketing moments of my life and career till date. I am sure cricket lovers will relish these anecdotes from my life.''
The Indian skipper believes he is the luckiest person in the world, because he gets to pursue his hobby of playing cricket he is passionate about for a living.
India coach Greg Chappell, said it was a 'myth' perpetrated on the Indian public that Dravid is a "nice" guy.
While it's true that the Indian captain is quiet, soft-spoken and a wonderful human being, he does have a tough edge and is a "strong personality".
Chappell termed Dravid as "a quality player, quality person with a great mind."
"He (Dravid) sums up things, situations very well and has a great deal of courage," the former Australia captain said.
Dravid would not have been so successful had he not had a tough edge, argued Chappell, who recalled the Indian captain's talk to team members on what he expects from them at the beginning of the series against Sri Lanka at Nagpur.
"I have been saying and will continue to say that he (Dravid) has qualities to become one of the great captains of Indian cricket," Chappell said. "He has the courage, he has the talent; he is not only a role model for the team members but for all of us."
The coach then went to on stress how difficult it is to get into the Indian squad and even more to become the captain.
He said he has respect for Team India players as the "Indian public is very demanding, Indian media is very demanding".
"To become captain is a great honour; a great challenge. It's probably one of the toughest jobs in cricket. You are lucky you have one of the toughest [in Dravid]."