At the old cricket stadium in Chandigarh's Sector 16, that served the state's cricket needs till Mohali came along in the mid-nineties, people kept coming up to ask if I were from Pakistan.
No, I told them – to their manifest disappointment. Actually, I – like them – was waiting for the busloads of Pak fans to arrive for the first Test at Mohali beginning on Tuesday.
'Are you from Pakistan?'
Each time someone asked me that question, it underlined what we all know, but rarely think about – the divisions, the dissensions, between the two nations are man-made; underneath it all, however, we are the same. We look alike, we dress alike, we speak alike, we are often mistaken for the other.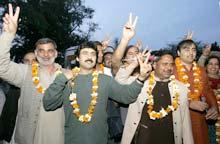 Meanwhile we, all of us, continued to wait for the Pakistan fans – who were originally projected to come by train, from Atari. The two trains, we were told, had been cancelled, purportedly due to 'technical difficulties' and some snowfall.
So the Pak fans were coming by bus, courtesy the Punjab Roadways Transport Corporation. 33 buses came through before the Wagah border was closed for the evening; more are projected to come during the daytime today (Monday).
As each bus entered the compound of the old cricket stadium at the end of a five hour journey from Wagah, a roar erupted – celebratory fans in the buses being welcomed by equally celebratory Indians awaiting them.
As they alighted, the Pak fans were greeted with roses and served hot tea and bhajjiyas – the visa formalities and paperwork could wait, was the consensus.
Visas are being provided only for Mohali, Chandigarh, Panchkula, Ropar, Patiala and Ambala – a blow for many Pakistanis, who said they were hoping to spend some time traveling across the country to see all, or as much of it, as they could manage.
Others, like Imran Khan, 38, from Lahore, said it was still worth it. "I have come here to see Punjab. Cricket ka kya hai woh to TV pe bhi dekh lete (We could have watched cricket on TV too). My father used to stay in Punjab before the Partition, and I wanted to see this Punjab."
And what does he think of the little he had seen thus far? " Islamabad is also like this, and so is Lahore."
25-year-old Zahid Chohan had a tough time convincing his ammi (mother) to allow him to make the trip.
"Abbu was okay with the idea of me coming to India but my ammi and elder brother are very strict," Chohan said. "It was very difficult to convince them. But then I said, 'It is my life and I want to live it my way.' That is when they relented."
Sallahuddin, a venerable 66-year-old, is on his second trip to India.
"Yahan badi chahat hai, yeh sabse badi baat hai. Hum toh cricket aur ghoomne, dono karne aaye hain. Aisa lagta hi nahi ki hum Pakistan chod kar aaye hai. Aakhir qaum to ek hi hai na". (There is a lot of affection here, that is the biggest thing. We came here for the cricket, and to travel around. It doesn't feel like we have left Pakistan – after all, the people are one, aren't they?)
Sallahuddin last visited India 20 years ago, and believes that in the interim India has made tremendous progress. "You just look around and you feel that the government has been doing a good job. Last time round, it looked pretty ordinary, but now you can see that India is doing well."
Once the visa formalities were done, visitors were sent to their respective hotels, or to the homes of Chandigarh residents who had offered their hospitality.
Prior to the tour, doubts had been expressed whether Indians would match the hospitality Pakistan had extended to Indian fans who went over for last year's series across the border.
Not to worry, Harbans Singh – a 30-year-old policeman – told me; we will give them an experience they will remember for the rest of their lives.
"Unhone hamara itni acchi tarah swagat kiya tha. Ab hamari baari hai. Hum job hi kar sakte hain unke liye hum karenge. (They had given us such a good welcome when we visited them last year. Now it's out turn. We must do all we can to make their stay comfortable.)"
Judging by the buzz of merry-making that permeated the stadium till late into the night, India has made a start at rolling out the red carpet.
Photograph: AFP/Getty Images