There is a consensus that this season's Ashes will be the closest-fought series since 1989 but Australia fast bowler Glenn McGrath cannot quite bring himself to toe the party line.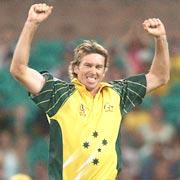 "I think I was saying 3-0 or 4-0 about 12 months ago, thinking there might be a bit of rain around," he says with a mischievous smile. "But with the weather as it is at the moment, I have to say 5-0."
Is he being serious or is he playing mind games? McGrath, he of 499 Test wickets, just keeps on smiling.
Of one thing there is no doubt. He has been observing England closely, from their technique to their body language, during the one-dayers before the start of the Test series at Lord's this week and he likes what he sees.
Not that he denies that England have improved from the injury-blighted rabble that disembarked in Australia at the end of 2002 on their way to a 4-1 beating.
| | |
| --- | --- |
| | Also Read |
| | |
"I think they are a far better team than they have been in the past. Their form over 18 months has been very good. The main difference is they have some world-class players," he says.
Under Michael Vaughan, England were unbeaten in 2004, winning eight Tests in a row on their way to second in the world rankings.
Andrew Flintoff emerged as the most complete all rounder in the world, Steve Harmison as one of the most dangerous quicks and Andrew Strauss as a prolific opening batsman.
It is a settled, confident, happy side. Compared to Australia's 30-somethings, they are young.
Five of the 11 are also free of Australian scars, having yet to make their Test debuts against the world champions.
Having beaten Australia in three limited-overs meetings this tour, they also know that the world champions can be beaten, even if they were crushed in the final two meetings.
The 35-year-old McGrath believes those fresh English faces, however, could prove to be a weakness. If Australia's quicks can run through Marcus Trescothick, Strauss and Vaughan England will have to rely heavily on Ian Bell and Pietersen, with just three caps between them (even though Bell's Test average is 297).
"To me, the opening partnership is a massive key to England doing well," he says.
McGrath is determined to make one of the openers his 500th Test victim. As so often before, he has publicly targeted them, along with Vaughan.
"I think it does have an effect on them psychologically," he says of the ploy.
It began by accident a few years ago, when the media wrote that he was after a particular batsman.
"Well, I knocked him over a few times and away it went and the media did the rest. I thought: 'Why not, since it's been so successful?'
"I think if you target the leading batsmen or the captain it can have an effect on the rest of the team if you can get on top of that guy. At the end of the day, though, I'm looking to knock over 11 guys."
PAIN DISAPPEARED
A year ago, McGrath did not seem capable of knocking anybody over. Following an ankle operation, he was struggling to get back.
"The ankle was still a bit painful, I was frustrated, I said if it's going to be like this I could hang the boots up now," he recalls.
But the pain disappeared -- he had bowled in pain for so long that he thought it was part of a fast bowler's lot -- and he rediscovered his zest. Since his return, he has taken 69 wickets at an average of 18.17.
He needs just another 20 to catch Courtney Walsh, the most successful fast bowler of all time.
"To have the opportunity to take a 500th wicket at Lord's is something pretty special. All Australians love to play at Lord's. I probably couldn't have scripted it any better," he says.
"We have got five Tests here so if all goes well I might be able to catch Courtney by the third or early in the fourth. After that, well, I haven't felt better for a long time. If all goes well maybe I'll play another two years."
McGrath is set to open the bowling with Brett Lee, who looks certain for his first Test cap in 18 months after his fine showing in the one-dayers. Michael Kasprowicz and Jason Gillespie will fight it out for the final fast-bowling slot.
Spinner Shane Warne, with 600 Test wickets looming, is relishing his personal battle with Hampshire team mate Pietersen. McGrath would be happy to start his campaign by getting rid of Strauss, with whom he played at Middlesex.
"I think if he scores runs against our bowling attack I think he will have a long future in the game," says McGrath.
Strauss says McGrath, despite all the snarls and threats, is a lovely man.
McGrath smiles again. "At the end of the day, I'm a fast bowler. What I do is aggressive and I am out there to take a few wickets and unsettle a few batsmen. Once we walk off the field, it's back to real life and normal people again."