From trading in vegetable oils to taking on global heavyweights in a fight for India's cricket television rights, Subhash Chandra delights in challenges.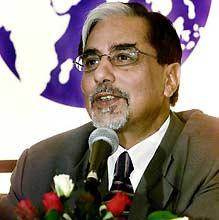 The chairman of India's biggest listed media company, Zee Telefilms, caused a stir last week when he walked into a Bombay court room to defend Zee's cricket coup.
Zee, which launched India's first satellite TV channel in 1992, was the surprise highest bidder and won conditional rights to show the Indian cricket team's home matches for four years starting in October.
But ESPN Star Sports, a joint venture of Walt Disney and News Corp.'s Star, challenged Zee, claiming it had no experience in broadcasting live cricket.
A court ruling is expected later this week.
The clash is reminiscent of a stand-off in July between media mogul Rupert Murdoch and Italian Prime Minister Silvio Berlusconi over broadcast rights to Italy's soccer clubs.
But 54-year-old Chandra, a devout Hindu who is fond of quoting the Bhagavad Gita scriptures, loves a good fight.
Chandra's Essel group, which owns Zee and employs 5,000 staff, has interests ranging from packaging, entertainment parks and online lotteries to films, television and publishing.
Its slick glass-and-chrome offices in Bombay are a stark contrast to Chandra's more rural background.
Born in a village in Haryana, Chandra is one of seven children of a cottonseed trader.
As a young boy, he wanted to be an engineer. Aged 19, he opted against college studies and, spurred by his grandfather, set up a vegetable oil unit, later moving to grain exports.
NEW PATHS
A visit to a packaging exhibition led to the 1982 launch of Essel Packaging, which makes laminated tubes for toothpastes, cosmetics, food and drugs. The company merged with Swiss firm Propack AG in 2001 and became Essel Propack Ltd.
| | |
| --- | --- |
| | Also Read |
| | |
In 1988, Chandra set up Bombay's first amusement park, EsselWorld.
Zee was the outcome of a casual visit in the early 1990s to a friend at Doordarshan, the state-owned television channel. Chandra signed a lease for a transponder on the Asiasat satellite and won equity backing from some non-resident Indians.
Chandra is said to have watched every programme aired on the channel in its initial years. Today, the network is distributed in the United States, Europe, Middle East and Africa, and is preparing to launch a sports channel to add to its news, films and music.
After a near-monopoly, Zee now lags rivals Star and Sony. Analysts say cricket could help Zee bridge the gap.
Zee is very nearly a fully integrated entertainment company, with production and distribution alliances for feature films, and dominant cable and direct-to-home (DTH) TV ventures.
With a swathe of white hair over his right temple, Chandra is described by colleagues as down-to-earth and hands-on. He makes decisions quickly and is unafraid to ask for opinions or admit to mistakes, an associate said.
He also makes no bones about his background, preferring to speak Hindi than English and smoking 'bidis.'
While some question the viability of spreading himself so thin, others say that, despite the appearance of a professionally-run group, Essel remains a family concern.
Three of Chandra's brothers head Essel Propack, Zee News and the cable unit, while his two sons lead the newer businesses -- online lottery, DTH broadcasting and the sports channel.
Known to say "walking down beaten paths is for beaten men", Chandra's path is as gripping as an India-Pakistan cricket Test.