Mum send Imodium.' That's just the kind of banner that would go alongside a huge 'FANATICS' hoarding.
It takes almost two days to understand what it means, and the reason why a man would bend over a second floor balcony to unfurl such a banner till policemen try to stop him.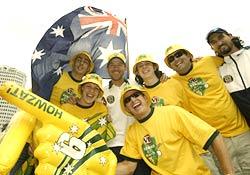 Imodium is a medication for stomach upsets. It is something Australians on tour regularly need after a curry meal in India.
'The Fanatics' is a tour group, founded by Warren Livingstone in 1997, that offers passionate and patriotic support to Australian sportspersons around the world at cricket, tennis, rugby and a little bit of football every now and then.
The group made a huge impression at Wimbledon in 2000 and 2001, when Patrick Rafter lost to Pete Sampras and Goran Ivanisevic respectively in the finals those years.
It is also a huge force during Australia's Davis Cup matches, especially when former world No 1 Lleyton Hewitt is around.
Peter, or Pistol as the man introduces himself, is on his first tour to India and has followed the Australian cricket team from Mumbai to Bangalore, Chennai and Nagpur.
"We are more of a fun group. The waving of the flag is more like connoisseurs; we also enjoy the cricket a lot," he says.
It is the afternoon session and the Fanatics are warming the Nagpur crowd. Schoolboys stepping in to catch a session of the day's proceedings receive a 'matey' high-five.
When the Indian flag is waved after Rahul Dravid clips a four, the gang tries to mellow the cheers down by applauding themselves. The colourful shamiana overhead is matched with the old Australian one-day jersey, yellow Maharaja turbans and rudraksh chains dangling in clusters. For every Indian flag there is an Australian flag that is a foe only on the cricket field.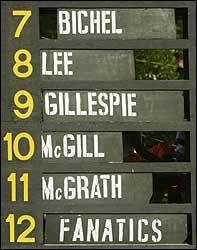 Sachin Tendulkar is out, LBW to Jason Gillespie. The Indians are subdued, but the Fanatics get just what they were looking for. The flags are up; so are their voices, and even the crocodile balloon, dressed in the Australian yellow, is hopping madly, throwing its hands, limbs rather, in the air.
"Dizzy, Dizzy, Dizzy; you make me dizzy, my head is spinning," sing the Fanatics.
Gillespie's got the important one, but they are waiting for the wicket of the man they feel is capable of creating a miracle for the Indians.
V V S Laxman in on his way, and Peter and Dan of the Fanatics mutter, "These guys can bat and score 300 in no time."
Their fears did not materialise; Laxman was out quickly while cutting Shane Warne straight into Michael Clarke's hands. Celebration time again.
There are almost 40 'Fanatics' at the Nagpur Test, and they promise to be there for the final Test in Mumbai as well.
"It's not very expensive, the Indian tour. Costs us about 2,000 Australian dollars," says Dan.
"The people here are incredible. Everyone wants to shake hands with you; they keep holding the hand even when you've gone past them. That's what we come for in India."
Indeed, there is a certain bonding between Indian fans and the Fanatics, though the camaraderie may have soured a little after an Indian flag-bearer weaved his way right through the group using the choicest language.
But, like victory and defeat in cricket, it was taken in good spirit.