United States President George W Bush and Senator John Kerry provided ample drama for a packed media box at the Wankhede stadium, in Mumbai, as rain intervened on the opening day of the fourth and final Test between India and Australia.
Cricket was secondary as television sets were tuned in to the Presidential election on Wednesday. The close contest between the two made up for the excitement lost on the cricket field due to wet conditions.
Bush was cursed, Kerry pitied and CNN presenter Richard Quest mocked at. It confirmed politics is the biggest television drama, Quest providing an over-toned, over-animated performance.
And we thought Sidhuisms were only on cricket!
The contest Mumbai's cricket fans came to see took long to begin. Play finally began at 1400 hours and went on for five overs.
Virender Sehwag inside-edged and outside-edged, making the crowds skip a beat till the stumps were knocked over by Glenn McGrath.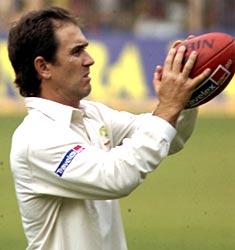 Next over, debutant Gautam Gambhir surrendered. The crowd, another example of how parochial it can be, danced and scowled on Sachin Tendulkar's arrival at the crease.
It is not a welcome sight, but when your side is two wickets down and threatening to get worse in conditions that would not have suited McGrath and Jason Gillespie better, such behavior bordered on insanity.
Mumbai does not have the best of reputation and can get ugly with visiting teams.
It gave the West Indians a torrid time. They can never complain of anyone being racist since then.
Mervyn Dillon said, after playing the first Test in the series in 2002, it was the worst crowd he had seen.
On Wednesday, Mumbai gave the Australians a dose of that.
A little before cricket could resume for the second time after the rain delay, Justin Langer kicked a red Australian football about with some cameramen.
The ball went into the stands and got the youngsters seated there on their feet.
Langer was thrilled and reciprocated by repeating the shot.
But when the Australians resumed on-field hostilities, the same fans hurled abuses at the team.
Langer turned back and, like a schoolteacher pointing a finger at naughty students, gestured that it was not polite to say such things.
The fans got on to their feet. They looked for the attention of an international star and were happy to get it.
Their actions established the conspiracy theory that Indian cricket fans are more about celebrity worship.
Bush and Kerry would pay for such pigeonholed supporters. Or do they already?