Shoaib Akhtar may be a batsman's nightmare, but off the field he is affable.
On Thursday, the Pakistan pace ace was at the King George V Memorial hospital in Mumbai for just an hour, and in that little while he won the hearts of patients of the cancer ward as he mixed with them.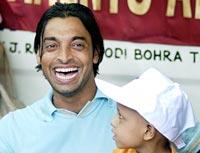 Akhtar, who is in Mumbai for an advertisement shoot, said he understands the pain children suffering from cancer endure and therefore took time out to meet them on an invitation from the Cancer Patients Aid Association.
"By coming here I am happy to bring smiles on the faces of these children," he said.
After the 'Rawalpindi Express' wound his way around the hospital, a question-answer session was arranged with the children between ages three and 15.
It ran thus:
Why do you always seem to be happy when you get the wicket of Sachin Tendulkar?
It's not like that. I am happier when I take wickets, but, of course, it is more pleasure getting Sachin out. I am happy to have taken his wicket three times in the recent Indo-Pak series. I have to think very hard on what kind of delivery I have to bowl to him compared to other players. God has given Sachin a lot of talent. I am happy that he is a part of our continent. It is also true for Virendra Sehwag. Both of them are not frightened to face any kind of deliveries.
How do you feel when you are called Rawalpindi Express?
I am very happy with that name because I am from that city.
Who in the Indian team can become Rawalpindi Express?
I think Irfan Pathan has the potential.
I try to run fast like you and bowl, but I get tired too soon. Don't you get tired?
(Laughs) I too get tired, but I don't show the tiredness on my face.
Who is your favourite Hindi film hero or heroine?
I like Aamir Khan, Shah Rukh Khan. I loved the film Maine Pyaar Kiya of Salman Khan. I was in college when that film was released and I saw that film many times.
What about heroines?
Let me not take only any name, otherwise there will be controversies. I will say I like all Hindi film heroines.
Which is your favourite Indian tourist place?
I like many places in India, but I feel Jaipur is the most beautiful place I have visited.
What do you dislike about Mumbai?
The weather right now. It is too hot (laughs).
What is the best thing about India?
Its people. They have ample love and warmth for me. Let me add that even many Indians who came to Lahore to see the India-Pakistan cricket match didn't feel like going back to India. They wanted to extend their stay in Pakistan.
Aapko Kisse Prerna milti hai?
Who is Prerna?
I mean inspiration.
My mother and brother.
What is your message to youngsters and children who fall into addiction?
I want to give the message to them that they should not fall into bad habits. It is better to play cricket or some other sports to remain healthy rather than falling into addiction.
On serious note, Akhtar said he was happy that India and Pakistan played a Test and One-Day International series.
"If there was no cricket series I would have never been able to come and visit these kids. I hope the friendship between the two countries exists so that our children can benefit from it," he added.
Refusing to answer any questions from scribes, he said the purpose of his visit to the hospital was to meet up with the kids.
Before leaving, he thrilled the kids by bowling to them.