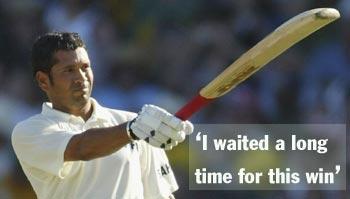 Sachin Tendulkar is jubilant, but he won't show it. Having started his international career in Pakistan 15 years ago, his dream of winning a Test series in Pakistan is now a reality.
Hours after India won the Rawalpindi Test he was in his hotel room. He checked the team's dinner time with manager Ratnakar Shetty, accepted umpire David Shepherd's autobiography, Shep: My Autobiography, and attended a million calls without a hint of irritation.
Sitting on his bed, with a picture of his late father Ramesh by his side, he also answered every query Assistant Editor Faisal Shariff threw at him.
In the first of a two-part interview, Tendulkar talks about the significance of the triumph in Pakistan, his batting form and the famous declaration, when he was on 194, in the first Test at Multan.
What does this victory mean to you?
This one is very special for me. Firstly, we won both, the one-dayers as well as the Tests. That makes it very special. The whole team performed well. There were brilliant individual performances with other individual performances chipped in discreetly. Take for example this Test: Rahul Dravid scored 270, but [Laxmipathy] Balaji picked seven important wickets. In Multan, if Virender Sehwag scored 309 and I scored 194, Irfan Pathan and Anil Kumble picked important wickets.
Which moment sums up the series for you?
That last ball of the third Test is the moment that sums up the series for me. The feeling that came to me was that we had won the series. As soon as I saw the ball go up in the air I turned around and grabbed a stump. I didn't even bother to see who caught the ball. It was only after I got back to the dressing room that I found out that [Sourav] Ganguly had taken the catch.
I kept telling the guys after the Lahore Test that the last time India and Pakistan played, Pakistan won the first Test in Chennai, then we won the next one in Delhi and then they won in Kolkata. Here, in Pakistan, we won the first Test in Multan, then they won in Lahore and I told them that it is our turn in Pindi and we will do it.
What kind of preparation went into this Test series?
The tour was finalised just a few days before the team could leave. I was prepared mentally for it; didn't do anything special. Knocked a few balls in the nets and waited for the decision [for the tour to be cleared]. The way we played in Australia, I was sure we would continue that good work. There was no room to relax and we were all geared up for the tour.
How will you look back on this tour two years from now?
Two years from now I will look back and think that we were the first ones to win in Pakistan. That will be a huge thrill. The whole team was focused for this tour and I also probably chipped in. I waited a long time for this win and it sure is going to be a memorable one.
We've been putting big runs on the board consistently over the past few years. That had never happened before. Add to that the fielding and the bowling, which was top class save for the last day of the Pindi Test, where the ball just didn't stick to hand.
In Multan, the fielding was brilliant. The run-outs and running between the wickets were brilliant.
Shoaib Akhtar rated your one-day hundred at Rawalpindi as a better innings than the World Cup game in Centurion.
I batted well in that game. There was a nice flow in my batting. I built up that innings. I ran well, timed the ball well and was well in command. To score runs was very important. We had already won the first one-dayer in Karachi and we wanted to win the second game to be in command for the series win. We were chasing a huge target and things just went a bit wrong at the end.
What about the 194 in the Multan Test?
It was a different innings. We were 100 for 2 and if another few wickets had fallen at that time it would have been a different story. My partnership with Virendra Sehwag was important. We had to tire the bowlers out so that those who follow could take advantage of that. I decided to hang around and the runs would come.
They set a deep point after some time and got defensive with their field. We had to pile up the runs. We were batting slowly and steadily, though I think the pace was good since we were going at four an over. I was very happy with the way things were going. The way we were batting gave security and confidence to the side. We were able to get them to follow-on again. The idea was to bat once and bat big.
You were upset with the declaration. There was talk about a rift in the team. How true was it? What really happened?
There were people looking for controversy. The first question that was asked at the press conference was, 'Are you disappointed?'
If you ask that to a batsman batting on 194 at the end of day two of a Test, shouldn't that be a natural reaction? Am I not allowed to express my emotion?
But nothing comes in the way of the team's interest and team goals. The team is first and then comes the individual. I expressed surprise at the press conference but within minutes the matter was resolved.
Rahul and I sorted it out and that was that. It was as transparent as anything. There is no damage to our relationship. My friends told me there was a heated argument between Rahul and myself and I laughed, because there was not one percent of truth in that. Our relationship is as good as ever. We have great respect for each other and we both value that a lot.
People must also realise that cricket is not about individuals but about the team. I think the declaration was blown out of proportion.
Our batting has been clicking like never before. Have you ever seen a better batting display by any Indian team?
I would say our batting has never done better. Our batting earlier had not been able to put up such huge totals consistently in all conditions and all over the world.
So do you think we have turned that formula on its head where bowlers have to take 20 wickets?
No, I would still say you have to take 20 wickets. Wickets will always win Tests. But for that you need big totals or at least decent totals. Bowling is the key factor. We scored 500-plus runs in South Africa in the first innings but we lost that Test. It is important to get 20 wickets at a decent rate.
The Sydney Test [2003-04 tour of Australia] saw a strange batting performance from you. What was your approach in that Test?
I was struggling a bit for runs. I kept telling myself that if it is the cover drive that is getting me out, I would not play it. I got out playing the cover drive in Adelaide and at the MCG. It was just not working for me. So I cut it out because I wanted to get runs so India could win the series. I wanted to stay there and not get out in the innings. I told myself that I wouldn't make that change from third gear to fourth gear in my innings come what may.
And I felt proud that I did not play a single cover drive in the innings. If you see my wagon wheel you will see that there was not a single run scored from there. It was a very special innings for me. It was a well-disciplined innings where I curbed my natural instincts. I played within my plans.
Don't you miss being the attacking batsman who dominated right from the start? Would you agree that your style has changed?
Not really. Last season also I played all my shots. In the World Cup I played my attacking brand of batting. In 2002, when I batted against the West Indies in Kolkata, I played all my shots. It's not that my style has changed over the last 2 or 3 years. Maybe, the last few Tests, or that one Test in Sydney, was where I changed my style.
So did you play your natural game in Multan?
In Multan, when I came out to bat, I played a couple of cover drives from the early stages. It was only in Sydney when things weren't going my way that I decided to cut it off. The Pakistanis were very defensive right from the start. They had deep point and deep square leg. It takes more time to score runs. You obviously don't get boundaries at will. That's how the game is played. Every team plays differently and you have to play differently.
Would you do that again?
I don't know. If my game demands that, I will do it. The idea of changing your game according to the wickets and conditions and bowlers is what international cricket is all about. I have made plenty of changes through my career. I have made changes sometimes after every innings. I changed my stance and my shuffle so many times. 
In the World Cup, I changed something halfway through the tournament but no one noticed it. My stance was different. After the Zimbabwe game my stance was different. I had more gap in between my legs. You plan to play different shots and plan to move differently so that you are in position before time. I have done that since 1993.
Part II: 'Individuals will never win a game'