Last week Jagmohan Dalmiya, president of the Board of Control for Cricket in India, snapped at a journalist when asked about bringing professionalism into the game.
"Do you need to be paid to work professionally?" Dalmiya shot back.
The answer set me thinking about the strange mindset of those running cricket in India.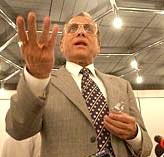 The world outside the BCCI takes it as a given that you need to be paid well to work professionally, unless you are working for love or charity. Yet, the BCCI clings to the outmoded, discredited notion that there can be accountability without professionalism.
This kind of convoluted thinking runs through the gamut of the BCCI's activities. The honorary selectors are a shining example.
When they picked the Rest of India side for the Irani Trophy game, the five wise men said they wanted to give everyone a go and there was no need for anyone to feel done in.
Three wicketkeepers took part in the Bangalore conditioning camp and the Challenger series that followed. They were Ajay Ratra of Haryana, Parthiv Patel of Gujarat and Thilak Naidu of Karnataka. The idea thereafter, you would have thought, would be to give all three a match each and check them out in the longer version of the game.
Not so the honorary wise men.
So, while Patel played for the Rest against Mumbai and Ratra will play for the Board President's XI against the touring New Zealanders, Naidu is conspicuous by his absence. Instead, we have Bengal's Mr Butter Gloves, Deep Dasgupta, resurrected into the India 'A' team!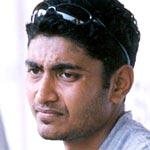 Which begs the questions: why was Dasgupta not among the probables for the camp in Bangalore? Why is Naidu being denied a chance despite being among the probables and figuring in the Challengers?
"The selectors have decided to give chances to a lot of players as they have had a long off-season," argued honorary BCCI secretary S K Nair. "They [the selectors] will also be looking at the players keeping in mind the tri-nation one-day series that follows."
How any of this justifies Dasgupta's inclusion will probably boggle Sherlock Holmes's mind.
Dasgupta has done nothing of merit in Limited-Overs Internationals. Moreover, since standing in as opener for the Port Elizabeth Test in South Africa in 2001, when he scored 63, and then getting his maiden Test century against England at Mohali the same year, he has been unable to reproduce the same batting form. As regards his 'keeping, the only thing he has seemed capable of catching comfortably is a cold.
On the other hand, Naidu, who has lost a lot of weight since earlier years, did nothing particularly wrong in the last Ranji season, scoring 817 runs in 11 matches at an average of 51 and becoming the leading wicketkeeper with 29 dismissals.
If the idea behind including Dasgupta was to explore the possibility of finding a Test opener, then shouldn't he have been selected as an opener? Would that not have been fairer to Dasgupta as well? He could then have concentrated on his batting and probably put in a far better performance.
If players are being tried out with the tri-nation one-day series in mind, then surely Delhi's Vijay Dahiya, who has an impressive strike rate of 80 in LOIs with a half-century to boot, deserves an opportunity?
Ditto for M S K Prasad of Andhra Pradesh, who performed creditably on the domestic circuit last season, scoring 754 runs in 11 games at an average of 44.35; a decent average for any wicketkeeper.
The point, however, is that when three 'keepers have been earmarked as the guys to watch for the future, why experiment with those who have failed to perform in the past?
In Dahiya and Prasad we have sterling examples of talent gone abegging. Do we want the same fate to befall Naidu?
The honorary selectors, however, deserve kudos for finally giving Test discard Sadagopan Ramesh a chance to prove himself again with a place in the India 'A' team, though with just one chance, it's perform or perish for the southpaw from Tamil Nadu.
The Board President's XI: (from) Virender Sehwag (c), Akash Chopra, Shiv Sundar Das, V V S Laxman, Yuvraj Singh, S Sriram, Ajay Ratra (wk), Amit Mishra, Ramesh Powar, Amit Bhandari, Tinu Yohannan, Wasim Jaffer, Siddharth Trivedi, Amit Uniyal
India 'A' team: (from) Mohammed Kaif (c), S Ramesh, Akash Chopra, Rohan Gavaskar, Connor Williams, Hemang Badani, Deep Dasgupta (wk), Murali Kartik, Sarandeep Singh, Sreesanth, Munaf Patel, Mithun Manhas, Abhijit Kale, R P Singh