Cricket has always been a team sport where a single player can seldom win or lose a match. But now the selectors have decided to use the Challenger series as a testing ground for the forthcoming series against New Zealand and Australia.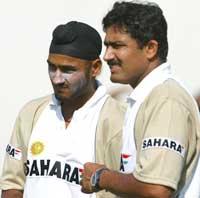 This changes the rules of the game. Team performance is no longer the norm for success; personal achievement is.
The game between the India Seniors and India A throws up a lot of interesting contests. Prime among those are:
Harbhajan Singh vs Anil Kumble
Playing on home turf, legspinner Kumble will be out to prove that he is still the master when it comes to playing in India. In recent times, we have seen his position as India's leading spinner usurped by Harbhajan Singh. The young Sikh from Punjab has a lot of variations up his sleeve and his cavalier batting can be a bonus.
Parthiv Patel vs Ajay Ratra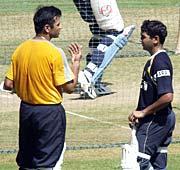 India vice-captain Rahul Dravid names Gujarat's Parthiv Patel as the number one wicket-keeper in India. A few days earlier, Dravid had indicated that he no longer wishes to continue as the wicket-keeper in one-dayers. The announcement immediately brought hope to the likes of Haryana's Ajay Ratra who has been confined to the wilderness for far too long.
Patel may have the edge over Ratra when it comes to wicket-keeping skills, but the batting will also count for something, especially in one-dayers.
Gautam Gambhir vs Wasim Jaffer
Delhi lad Gautam Gambhir's debut in the Dhaka tri-series involving South Africa and Bangladesh in April was not very impressive. There were plenty of flaws in his technique, but the talent was quite evident. Mumbai's Wasim Jaffer is very good and at times looks like the perfect opener for India. But come the big stage and he fails. This is his opportunity to cement a place in the Indian Seniors. Delhi's Virender Sehwag has already said that he would like to bat lower down the order. So an opening is certainly there. But who will grab it first?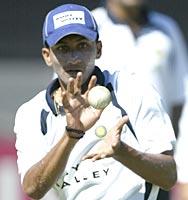 Sanjay Bangar vs Reetinder Singh Sodhi

Sanjay Bangar, the Railwayman from Maharashtra nicknamed 'The Buddha' by Rahul Dravid for his cool, calm attitude, does whatever his coach and captain ask of him. The perfect soldier, he asks no questions, just goes about his job in a controlled manner. Hardworking more than talented, he gives the game his all. But he has his limitations. Reetinder Singh Sodhi will be looking to exploit those. Even though both men are in the same team, the competition will be fierce. The young lad from Punjab, who has a great heart, has already declared his intention of opening the batting. He will leave no stone unturned to get back into the team.


Aavishkar Salvi vs Irfan Pathan vs L Balaji
The trio will be looking to exploit the gap left by the absence of veteran Karnataka pace bowler J Srinath. All are young and have immense talent. Among the three it is Mumbai's Aavishkar Salvi who has taken the lead with an inspiring performance in Dhaka. So the others have their work cut out: do better than Salvi or wait another three months at least before a chance comes their way.
| | |
| --- | --- |
| | More on the Challenger |
| | |
Mohammad Kaif vs Ambati Rayudu
Many will scoff at the comparision. But those who have seen Andhra Pradesh batsman A T Rayudu play believe he not only deserves a chance in the team, but should be a permanent fixture. Uttar Pradesh livewire Mohammad Kaif has changed the Indian side with his fielding. But Rayudu does not lack in this department either. So, who will come out trumps in this unlikely contest?