As the first Test between New Zealand and India at Ahmedabad stuttered to a rather dull draw, the spectators resorted to their own means to keep themselves entertained.
The Mexican wave, frantic attempts by youngsters at humour, rhythmic clapping, all made an appearance at the Sardar Patel Gujarat Stadium.
But all of them were put in the shade by the talent of one man.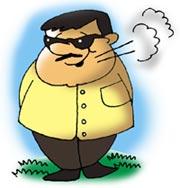 Bharat Patel looks like your everyday middle-aged person, a little plump, nothing impressive to look at. But the moment he starts whistling, you could be forgiven for thinking that he possesses Bose speakers in place of a larynx.
Patel's whistles pierced through the cacophony of life around him like a light through darkness. The spectators needed no second invitation. Drawn by his almost magical power, the hundreds present in the pavilion stand almost immediately started buffering every hoot with claps.
A point arrived when the crowd distinctly missed the whistles. Youngsters would approach Patel and say, "Uncle, one last time. Please..." That was all the encouragement Bharatbhai needed to blast out another series of high-pitched whistles.
Immediately after emitting the whistles, Bharatbhai would look around and burst into a hearty guffaw.
Patel has watched every single Test match and Limited Overs International that has been played at the Motera and possesses a keen knowledge of the game. Whistling with such unique fervour is an art he developed over the years, but the talent and the lung capacity to go on for almost five minutes at a time are natural.
Though his earsplitting whistles worked the crowd into a frenzy, they failed to inspire the Indian team to fight as if their lives depended on the outcome of the match.
Bharatbhai had come to the stadium on Sunday in the hope of cheering a victorious Indian team. For most of the day, it looked as if his dream might inspire reality. But after the tea session, as Craig McMillan and Nathan Astle put on an unbroken seventh wicket stand to guide New Zealand to safety, Patel's whistles too seemed to lose their power.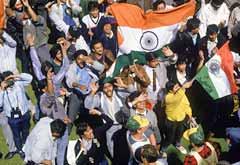 Patel, a businessman from Ahmedabad, eventually walked out a disappointed man. "Yahan India ko jeet-te dekhne aaye the. Ab toh draw ho jayega. Kya khela aaj...," he commented with unmasked hurt.
Even as he left 30 minutes before the close of play, Patel gave one last series of ear-splitting whistles. One could almost imagine him emulating the mythical French hero Roland giving a final blast of his enchanted horn.
The Indians may not have won, but you can be sure that the next time they are in Ahmedabad, Bharat Patel the whistle-blower will be there to greet them.
Illustration: Uttam Ghosh