South Africa's humiliation by England in the NatWest series final at Lord's last Saturday makes one look for reasons into the dwindling fortunes of the world's leading one-day team since the World Cup.
Is the captain failing to inspire the side? Or is the absence of match-winners like Jonty Rhodes, Allan Donald and Lance Klusener affecting the team?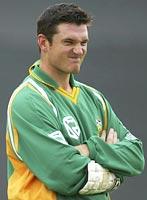 Whatever, one thing clear: Graeme Smith looks clueless when it comes to leading the side against quality opposition. He has absolutely no control over the proceedings when things are not going his way. And with a batting average of 30.73 in 12 matches since being appointed captain -- he has managed to scrap only three one-day international half-centuries against the batting-friendly attacks of Bangladesh and Zimbabwe -- he fails to lead by example with the bat too.
So could South Africa have a new captain in Jacques Kallis or, maybe, Jacques Rudolph after the team returns from England?
Maybe. The latter is young, and can also bat. And, according to South Africa's selectors, it is not necessary for captains to have experience at the international level!!!.
After surprisingly being handed over the captaincy from Shaun Pollock, Smith had declared: "I would like to install passion in this side. I want the team to take every opportunity there is to win and prove that South African cricket is the best in the world."
But his record of seven victories in 12 matches, five of which came against Bangladesh and Zimbabwe, doesn't say much about his leadership.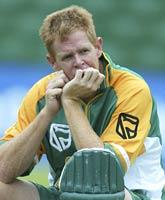 Compare it to Pollock's record: 57 out of 90 matches won, an overall win percentage of 63.33. As skipper, Pollock has taken 128 wickets, at an average of 22.51 and his economy rate is 3.69, as miserly as ever. Added to that, he has scored 622 runs at an average of 18.85, which clearly underlines his utility as an all-rounder.
Perhaps, a comparison of the one-day international career averages of both Pollock and Smith presents a clearer picture.
Smith has scored 1202 runs in 34 ODI matches at an average of 37.56; has nine fifties, out of which five have come against weak opponents. Yes, he can also turn his arm over when nobody is around; with a single wicket in ODIs, he has an average of 102.00!
Pollock's performance card is mouth-watering. His bowling figures read: 280 wickets in 198 matches at an average of 23.16; an impressive strike rate of 36.97 at 3.76 runs per over. His batting statistics: 1969 runs at an average of 23.72 with seven half-centuries, all against Test-playing nations and all down the order. He has batted at quite a few positions and done well at most of them. He averages 26.80 batting at number 9 in 14 innings; averages 22.00 batting at number 8 in 47 innings; averages 24.45 in 56 innings batting at number 7. And, according to the latest PricewaterhouseCoopers Ratings, ranks fourth among the world's all-rounders and the third among the bowlers.
Indeed, those figures clearly indicate who should lead South Africa and who shouldn't. But, if captains are selected on the basis of their speaking abilities, no complaints!
After watching South Africa's showing in the NatWest series, it would not be a surprise if England also win the upcoming Test series. The five-match series is going to be Smith's biggest test. A win will firmly entrench him in the saddle; defeat could consign him to the wilderness.