In a radical move, the Board of Control for Cricket in India has banned one-day cricket for all cricketers under the age of 17 in the country. 
One question springs to mind: what will this achieve for Indian cricket?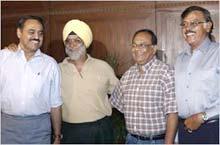 Last month I had asked India's latest batting hope, 18-year-old Ambati T Rayudu of Hyderabad, how it felt to abstain from the shorter version of the game. He clearly seemed unhappy.
Having played a good deal of one-day cricket, Rayudu argued that in this form of the game a youngster starts winning games for his side early in his career, which gives him a lot of confidence.
Moreover, he said, in one-day cricket 99 per cent of the time you are there for the team, so your individual interest doesn't count for much.
Rayudu is not in a club of one. Another member of the India 'A' side, who did not wish to be named, argued, "Don't Australian youngsters play one-dayers and go on to play Test cricket?"
But some former legends of Indian cricket believe that it is imperative to curb one-day cricket so that young batsmen don't play too many strokes too soon and spinners graduate in the art of flight and loop.
Cricket has undergone much transformation since the days of India's legendary spin quartet. The advent of one-day cricket has influenced a more attacking brand of Test cricket. Australia, the world's best Test team, aim to rattle up a score of more than 300 in a day's play. And Test matches are often wound up inside four days. Sure, mismatched teams are also partly to blame, but there is no denying that the game has become more aggressive and, as a result, exciting.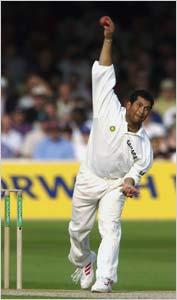 Sachin Tendulkar in an interview to rediff.com had admitted that the art of Test batting had changed with the growth of one-day cricket. What's more, he added, it wasn't entirely a bad thing.
"Everyone wants results," Tendulkar said. "That includes the players. The batsmen look to play more shots; the bowlers are willing to be patient. The game has become faster and more aggressive. It is a good move. I always like attacking cricket and that is good for the game... People enjoy aggression. They like to watch attacking batsmen, attacking bowlers, and that is what it should all be about."
India coach John Wright also believes that it is important to encourage all-round players. If you have the right technique, you have got to use it when you play. "The greatest batsmen in cricket have all been stroke-makers," he said. "History shows that.
"I think one-day cricket is exciting and we have results; that is the way cricket has evolved."
Think about it. Would you rather watch an attacking Matthew Hayden century or a snail-paced Ravi Shastri double century?
Cricket, after all, is a spectator sport.
But the fear of the former spin legends is that the one-day game is forcing young spinners to bowl flat rather than try and deceive batsmen with subtleties in flight and loop.
Erapalli Prasanna, one of the greatest offspinners of all time, blames this mindset of being a restrictive bowler for the drop in quality of spinners in the country. In an interview with rediff.com a few days ago, he had pointed out that these days most spinners look to simply restrict the rate of scoring. In his view, however, it should be the wickets that matter.
"Whether they apply it in one-day cricket or five days, at the end of the day, if someone bowls 10 overs and concedes 55 runs without a wicket, they do not realise that they have not played an important role," he said.
Yet, it is also true that a given situation in a game dictates the course of action to be taken at that point of time. If a bowler who has gone for 40 runs in four overs in his opening spell comes back and puts the squeeze on the scoring by bowling the next five overs for just 15 runs, can we say he has not done a good job for his side?
Anil Kumble and Harbhajan Singh, who constitute India's current spin attack, are products of an era in which pitches are covered and the game has tilted further in the batsman's favour. And yet they have managed to keep up the country's spin tradition. And waiting in the wings are bowlers like Murali Kartik, Sarandeep Singh, Amit Mishra and Sairaj Bahutule.
Ultimately, it is attitude and temperament that youngsters need to imbibe to succeed at any form of the game. A blanket ban on one-day cricket is not going to achieve this.
In any case, here's a point to ponder. There is no under-15 and under-17 one-day tournament in the country today. So what is the ban all about?