Italian Ivano Brugnetti strode to victory in the first athletics final of the Athens Olympics on Friday with a commanding performance in the men's 20km walk.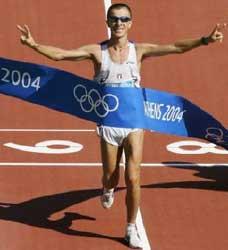 World silver medallist Francisco Javier Fernandez of Spain was second, five seconds behind, and Nathan Deakes of Australia, the double Commonwealth champion, was third in 1:20:02.
Brugnetti had finished second to German Skurygin at the 1999 Seville world championships but was later awarded the gold medal when the Russian was banned retrospectively after testing positive for a hormone.
"I dedicate this victory to the mother of my girlfriend who is fighting a serious illness," said Brugnetti, who clocked a personal best of one hour 19 minutes 40 seconds.
"My silver is as good as a gold," said Fernandez. "This year my coach died and he was like a father to me and I found it difficult to compete here."
World champion and 1996 Atlanta Olympics gold medallist Jefferson Perez of Ecuador finished fourth.
Each of the three members of the U.S. women's 100 team advanced from the first round, staged in burning heat at the Olympic stadium.
National champion LaTasha Colander won her heat in 11.31 seconds, despite slowing almost to a halt in the final 10 metres, and Lauryn Williams finished first in 11.16.
Twice champion Gail Devers also qualified automatically after finishing third behind Jamaica's Commonwealth silver medallist Veronica Campbell and 2001 world champion Zhanna Block of Ukraine.
"It felt great," said Colander. "It's positioned me well going into the second round."
Slovenia's Merlene Ottey, 44, who competed at the 1980 Moscow Games for Jamaica, finished second in her heat.
With defending champion Marion Jones failing to qualify and the first two finishers in last year's Paris world championships, Kelli White and Torri Edwards, both serving doping bans Saturday night's final is wide open.
Sweden's world triple jump champion Christian Olsson was the leading qualifier for Sunday's final with a leap of 17.68 metres.
"I'm happy with that," he said. "I'm not a morning person."
Olsson's team mate and world heptathlon champion Carolina Kluft of Sweden came within three hundredths of a second of her personal best in the 100 metres hurdles. However, she still finished fourth behind three Americans in the opening discipline of the two-day event.
Kluft clocked 13.21 seconds to gather 1,093 points. Britain's defending champion Denise Lewis won her heat in 13.40.
World champion Ivan Tikhon of Belarus was the leading qualifier in the men's hammer with a best throw of 80.78 metres.