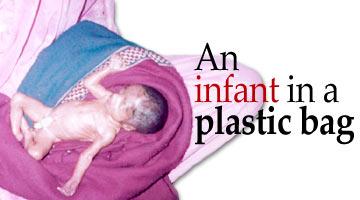 She was probably just a few hours old. Her mother had wrapped her in a black polythene bag and thrown her in the bushes.
She had no name, caste or religion.
She was just a pound of flesh left to be eaten by wild animals or to be killed by the chilling cold in the dense forests of the North Karnapura Valley in Jharkhand.
Welcome to the serene landscape of Vishnugarh, a township of 150,000 people and about 150 km from capital Ranchi.
The town has the most number of HIV/AIDS patients in the state and it was this that drew me to it.
A friend who works with a nongovernmental organisation had told me unbelievable stories about this town, which has 27 villages in its vicinity. Most men from here go to work in cities like Mumbai and Delhi to earn their livelihood. They bring in money for their families to survive in these economically and socially most backward villages of India.
They also bring the deadly virus and infect their wives.
I was talking to some doctors at the government hospital in Vishnugarh. The hospital is in the middle of the forest with towering Mahua trees and the famous Konar dam nearby. There are some small shops and dhabas around.
There was a cold wind coming from the jungle as I discussed the issue of HIV/AIDS with the doctors and social workers. The hospital has two dark rooms with tables and chairs. There was no electricity, so we decided to talk outside.
Suddenly a commotion broke out. A group of men and women seemed to be fighting. They gradually moved towards us and settled down near the hospital.
Two women had found a newborn wrapped in a polythene bag. One said she saw it behind the bushes when she went to collect wood.
"I thought it was a piece of flesh because many crows were swirling around. When I went there, I noticed some movement and then I heard the baby crying," said Sabita, a teenager. She then called her mother Nonki Devi, a woman in her 40s.
Nonki picked up the baby.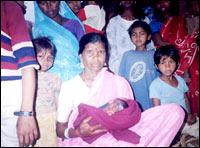 "I have found her and I will save her," she told the crowd aggressively. A group of people protested. They argued the baby should be handed over to the police. Nobody was willing to take the baby home.
"I will not give her to the police," Nonki said. "What will the police do? Does any one of you want to take her?" No one came forward. One man said if nobody wanted to take the baby then she belonged to Nonki.
I was happy to see Nonki. Generally people here prefer boys.
The doctors said it was a premature delivery. Even the umbilical cord hadn't been cut. The baby was shivering in the cold. Nonki embraced her and covered her with a corner of her pink sari. The baby had no energy to even cry. Even her eyelids did not open properly.
In villages, information travels swiftly. Some locals and a doctor told me the baby was abandoned not because she was a girl, but because she was born to an unwed woman.
In the evening, I went to Dhangar Tola, a red light area. The people living here belong to the Ghatwar community. They sell liquor and are into the sex trade. Girls at the age of 12 get into this sordid business.
I went to meet the sex workers and ask them about HIV/AIDS awareness and whether they use protection. I saw a group of women and children gathered in one corner.
Nonki was seated on a cot near a bonfire and applying oil on the baby.
Now I realised why the men didn't want Nonki to take the baby home. Sometime later, two policemen and two local journalists came, recorded her statement and went away.
It is worth considering what the child's life will be like. What if she, like many other young girls here, is pushed into the flesh trade and acquires HIV?
Photographs: Ehtasham Khan | Headline Image: Rahil Shaikh