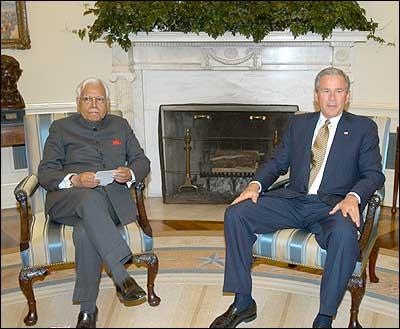 On Thursday, K Natwar Singh became the first Indian foreign minister to meet the United States president in the Oval Office of the White House.
In the case of earlier ministers -- like Jaswant Singh, or even the redoubtable Lal Kishenchand Advani when he was deputy prime minister -- the meeting with the US president followed a set routine. While they were hosted by the US secretary of state in the White House, the president would "drop by" and invite the visiting dignitary to his office for a quick sound byte.
This time, however, President George Bush has made the unprecedented gesture to invite Natwar Singh in specifically for a meeting, apparently to soothe ruffled Indian sentiments over the sale of F-16 aircraft to Pakistan, and to assure India that the sale in no way signalled a slight to the world's largest democracy.
The Bush-Natwar Singh meeting, which was expected to last not more than 10 minutes, went on for a little over 30 minutes, during the course of which Bush said he was looking forward to his trip to India some time later this year or in early 2006.
PHOTO: RAJAN DEVDAS