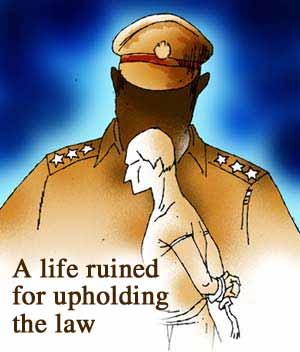 Mason Prempal Singh, 43, paid a heavy price for taking on the protectors of the law.
He filed cases and lodged complaints against policemen for their wrongdoings.
In return, he was implicated in 17 cases of theft, murder, and rape.
And spent seven years in jail.
His wife Munni Devi, also 43, was charged with theft and jailed for a month. She paid Rs 1,000 to get bail for a crime she did not commit.
Singh's elder son Sanjay was charged with theft and illegal possession of arms and put in prison for one-and-a-half years. He too paid a fine of Rs 1,000.
Singh was exonerated of all his 'crimes' last month.
Pronouncing the judgment, a Delhi court called his case an eye-opener and 'more horrendous than horror films.'
Additional Sessions Judge S N Dhingra observed in his 36-page judgment: 'This case shows that the police has persons of animal character in it.'
The judge ordered the commissioner of police to take necessary action against the erring policemen and compensate Singh and his family.
When Singh finally emerged from jail last month, it appeared as if justice had only been delayed, not denied.
Still making the rounds of the crowded Patiala House court in New Delhi, Singh and his wife are trying to live down their 13-year ordeal. No one is willing to marry their 20-year-old daughter Pinki and 26-year-old son Sanjay.
"We are ruined," said Munni Devi. "Our biggest problem today is to marry off Pinki. My son is also 26. People think we belong to a family of murderers and rapists. It is difficult to find a match for them."
Alienated from society after their 13-year 'criminal record,' the couple narrate a tale of woe that started in 1991.
Hailing from Salimpur village near Aligarh in Uttar Pradesh, Singh was a mason who lived with his wife and two children in Sangam Vihar, south Delhi. They owned a small two-room house in a dingy, crowded, working-class neighbourhood.
All went well till Singh intervened in a fight in his neighbourhood. He tried to stop four men from beating up a woman. He also informed the police about the incident, leading to the arrest of the men. After their release, two of the men -- Mahender and Sudama -- threatened to get even with Singh.
A few days later, the police picked Singh up and charged him under the Terrorist and Disruptive Activities (Prevention) Act, which was then in force. He was jailed for about a month, but was released on bail for lack of evidence. Singh alleges that the four men bribed the police to implicate him in a false case.
Two months after his release, a man named Niranjan from his native village came to work with Singh. Some days later, he decamped with Rs 5,000 in cash, jewellery, and clothes from Singh's house. When Singh went to the Sangam Vihar police station, the police refused to lodge a complaint.
Singh then approached the commissioner and deputy commissioner of police. Upon their orders constables Kalicharan and Surender went to Aligarh and captured Niranjan. The goods were recovered, but the two policemen allegedly let Niranjan escape on the way to Delhi. Singh again complained to the top brass. Again an order was issued to the two policemen to go to Aligarh and arrest the man.
They returned empty-handed. This time Singh complained to the then deputy commissioner of police (vigilance), Puran Singh, who ordered an inquiry. One of the constables, Kalicharan, was suspended and his promotion stopped for five years after the inquiry found him guilty.
But Singh was not satisfied, because neither was Niranjan arrested nor did he get his stolen goods back. So, he approached the Patiala House court in a bid to recover the goods. The police told the court they had never arrested Niranjan and that Singh was falsely filing complaints against them. The case was dismissed.
Singh then went to the Delhi high court seeking relief. For almost 18 months he attended court hearings. On July 23, 1993, Singh was to produce evidence against the police in the high court. But the police did not appear before the judge. So Singh was given another date.
According to Singh, as he left the court, some policemen were waiting for him outside. Among them was Sangam Vihar station house superintendent Raghuvir Singh, who had by then been transferred to another police station. He took Singh to the Kamla Nagar police station and charged him with murder and illegally keeping a countrymade pistol. He was sent to jail and released after two-and-a-half years -- on December 13, 1995.
The stint in jail did not dent Singh's determination to get justice. So he kept complaining to the police commissioner and filed cases in the lower courts. In return, junior police personnel implicated him in more cases.
"The police would come anytime, irrespective of whether it was night or day, and beat us up," Munni Devi said.
On February 28, 1999, 12 policemen came to Munni Devi's house at around midnight. Constable Rajesh Meena allegedly tried to molest her daughter Pinki. When the mother intervened, they started beating her up. Neighbours gathered on hearing the commotion. Singh and his son were not at home at the time.
The police then took the mother and daughter to the Sangam Vihar police station. "They tied my hands up with a rope and constable Rajesh Meena beat me mercilessly," Munni Devi recalled. "There were no policewomen there. I mentioned all this in court, but nothing happened."
Munni Devi was sent to jail for one month on a charge of theft, while Pinki was released after questioning.
Singh and his son were arrested near the court when they came to meet Munni Devi. His son was charged with 13 cases of theft and sent to jail for 18 months. Singh stayed in jail for two-and-a-half years on charges of murder.
"There was a time when all three of us were in jail except my two daughters and a son. My father and neighbours took care of them," Munni Devi said. "When I came out of jail after about a month, my son and husband were in jail. I had to work as a labourer and also appear in court. There were at least eight hearings every month."
Though unlettered, she now knows all the procedures of filing a case in court.
"All my relatives and neighbours started evading us," she recalled. "They sympathised with us, but feared the police. They said the police had destroyed us, so they would do the same to anybody who came to our help."
After coming out of jail, Prempal Singh and his son Sanjay went to Aligarh, fearing further police harassment. They grew vegetables and ran a small business there to earn a livelihood. Munni Devi, another son and two daughters continued to live in Delhi. "Anybody would have grabbed our home in Delhi. So my wife lived here," Singh explained.
But the police harassment did not stop.
Munni Devi and her daughters were constantly troubled. The police also kept asking Singh to withdraw all his complaints and surrender. Eventually his wife decided to sell the house and leave Delhi. "But the police threatened prospective buyers," she said. "They were actually forcing us to withdraw all complaints."
Hearing of the threats, Singh rushed to Delhi from Aligarh. He faxed all the details of his case to the police commissioner. As a reaction, local policemen ransacked his house and took away cash, jewellery and some household goods.
Munni Devi complained to the deputy commissioner of police in charge of the zone. The next day, May 5, 2004, Singh and his wife went to meet the DCP.
But Singh was arrested on his way to the DCP's office and charged with raping a seven-year-old girl. He was released on September 28, 2004, after the DNA report exonerated him.
Judge Dhingra observed: 'There is no doubt that the child was sexually assaulted, but I have no hitch to say that the police had no shame to use this raped child. To implicate the accused, her [the child's] statement was twisted.'
Singh and his wife are happy they are at last free of all the charges against them. As Judge Dhingra put it, 'The truth shall prevail.'
As the family could not afford to contest the cases, the court appointed a lawyer for them.
But their life is still uncertain. Sanjay works as a driver and earns Rs 3,000 a month. He is currently the only earning member in the family.
Singh and his wife spend most of the time in and out of court. They are planning to move the high court for compensation.
"The police made me a criminal. But I come from a respectable family," Singh said. "I didn't bow to the pressure. My father was a village head. He died a sad man after I was charged with rape."
But the police offer just assurances; no deadline has been set to initiate any process to give the family compensation.
Delhi Police Commissioner K K Paul told rediff.com: "We will definitely take action, but each case has to be seen separately."
The Delhi police say they will study the court's order before taking any action.
For Singh and his wife, it is just the continuation of a prolonged wait.
Illustration: Dominic Xavier