Known as 'Mr Clean' in political circles, R R Patil's career graph from a zilla parishad member to the deputy chief minister's chair in Mumbai has been marked by impressive achievements, astute organisational skills and result-oriented leadership.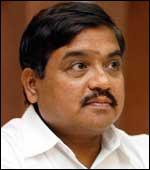 Groomed by the Nationalist Congress Party chief, Sharad Pawar, it was Patil's strong organisational skills and result-oriented strategies that paid rich dividends for the party in western Maharashtra.

Patil beat strong NCP contenders like Vijaysinh Mohite-Patil, Chhagan Bhujbal, Jayant Patil and Padamsinh Patil to the deputy chief minister's post.

Inducted for the first time in the Democratic Front government in 1999 as rural development minister, Patil was assigned the Home ministry in 2003-end after the then deputy chief minister Chhagan Bhujbal resigned in the wake of the Telgi scam disclosures.

Profile: Vilasrao Deshmukh  | Deshmukh sworn-in as Maharashtra CM

Patil, 48, popularly known as 'Aba', is a grassroots politician. After spending 11 years as zilla parishad member, Patil was first elected to the legislative assembly in 1990 from Tasgaon in Sangli district. Patil has since won the seat four times.

Known for his aggressive oratory skills, Patil played an effective role on the opposition benches during the erstwhile Shiv Sena-Bharatiya Janata Party rule.
 
Subsequently, he was appointed the chief of NCP's Maharashtra unit.
                                                              
It was Patil who spurred village after village to adopt a more hygienic approach to life by launching the 'Sant Gadge Baba Sanitation Campaign.' The campaign helped in providing villages an incentive for maintaining a clean environment.

His strong rural roots helped Patil identify the needs of the villages and democratise the functioning of Panchayati Raj institutions.

An advocate by profession, Patil has earned the tag of an "efficient minister."

Patil's clean image has been endorsed by anti-corruption crusader Anna Hazare. Narmada Bachao Andolan leader, Medha Patkar, too has spoken in his support.