The Rashtriya Swayamsevak Sangh likes to catch them young to mould them into good Indian adults. So, any competition at this level is most unwelcome, especially from Pidgey, Rattata, Articuno.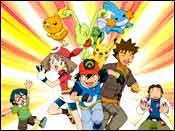 Yes, the names are difficult to pronounce but that is not what the RSS is concerned about. It fears these cartoon characters and their ilk may be distracting children from studies and gobbling up a substantial chunk of the hard earned money of Indian parents. Of course, there is also the fear that the children may deviate from Indian culture and its towering figures like Lord Rama and Krishna.

The cartoon characters belong to Pokemon (pocket+monsters), one of the world's most successful game and cartoon series. The animated cartoon is set in an imaginary land. Adults may not find the characters, which resemble insects, plants and monsters among others things, attractive but kids seem to be completely besotted.
A Japanese gaming enthusiast created the characters in 1996 with help from Nintendo, which is a major player in the video game industry. The target audience is kids and pre-teenagers. Top-Insight International, a Taiwan-based firm that has the licence to market the product in Asia, introduced Pokemon in India in May 2003.
Children have reportedly taken a strong liking to the stickers, plastic stamps, trading cards, books, CDs and video games of the cartoon characters, earning Top-Insight International revenue in excess of Rs 100crore less than a year after its debut in the country.

To keep up the excitement among the kids, it has been regularly coming out with various promotional packages and is now joining hands with fast moving consumer goods and toy companies to further spur sales.
The success had prompted Nintendo to make five animated films based on the characters. More are in the pipeline and some may even be screened in theatres in India. Until then, you may be able to catch one of them on some cartoon channel. You could ask your child for details of timings.
The RSS believes that the cartoon characters have become such a rage that kids have little time to go out of their homes and play. Perhaps, of greater concern is that children may deviate from the Indian culture.
An article in its official paper - The Organiser - demanded that the government levy a heavy tax on companies promoting 'Pokemon culture' to contain the frenzy. For the uninitiated, the article briefly explains the characters and their characteristics.