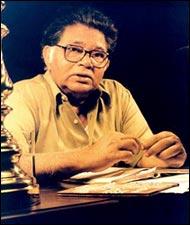 It isn't easy being a novelist in an age where plagiarism runs rampant.
Legendary Bengali novelist Sunil Gangopadhyay (left) was irked about five years ago when journalist Anuradha Dutt pointed out the resemblance between his classic novel Sei Somoy and an upcoming film.
Crossover filmmaker Deepa Mehta had announced a film called Water in 2000, and Dutt was aghast at the script's resemblance to Gangopadhyay's book and its English version, Those Days.
Sei Somoy, a fictionalised account of the 19th century renaissance in Bengal, is a highly respected novel that also acts as a guide to those times.
In March 2000, Dutt filed a case against Mehta on behalf of Gangopadhyay, publisher Badal Basu and translator Aruna Chakravarty.
Mehta's production process continued without a hiccup though, and the film -- starring Lisa Ray, John Abraham, Seema Biswas and Manorama -- is now complete. It was shown at the Toronto International Film Festival this September. This, despite Dutt filing a suit in the Delhi high court against the film's screening and release.
Finally, things seem to be coming to a close now as Mehta informed the Delhi high court on November 8 that she is 'willing to settle' the case.
Gangopadhyay, who has not been directly involved in the legal proceedings, is merely relieved.
Speaking to rediff.com over the telephone from Kolkata, Gangopadhyay said, "Though I was not too involved in the legal wrangle, and did not keep a tab on the case's progress, I am relieved to know that Mehta wants to settle it amicably."
There is no sense of bitterness as he extends a friendly hand towards Mehta.
"I will be more than happy to send out an invite to her through rediff.com to speak to me," he said, suggesting that everything could be solved with peaceful, casual conversation.
"After all," he says, "writers and filmmakers are but painters using different canvases."