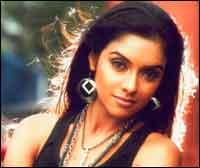 Ever since Ghajini released to a thunderous public response, Asin has become the toast of Tamil cinema. This Diwali is going to be very special for this 20-year-old actress as two of the major Diwali films have Asin as the heroine -- with Vijay in Sivakasi and Vikram in Majaa.
Asin spoke to Shobha Warrier about herself and her forthcoming films.
Your mother is a doctor. Generally, we see children trying to emulate their parents but you chose a different career. Were you a starry eyed youngster?
No, not at all. Both my parents are well educated; my father worked for the CBI before becoming a businessman, and my mother was a civil surgeon. But I did not want to be a doctor.
I started learning Bharatnatyam from the age of three. I have also learnt folk dance. In school, I was good in academics and extra curricular activities. I even topped the state in French in my Std 12 exams.
| | |
| --- | --- |
| | More on rediff.com ! |
| | |
Some actresses claim that they were never interested in movies and just strayed into films…
I started modeling at the age of 14, when I was in Std 9. Film offers had started coming since then. But I was not interested. I was planning to complete school, graduate, and go to Delhi to prepare for the Civil Service examination. That was my plan. But after school, my film career started.
I did my first film when I was still in Std 12. It was the Malayalam film, Narendran Makan Jayakantan Vaka, opposite Kunchacko Boban. The next film I signed was Ullam Ketkume in Tamil. I signed the film while I was writing my Std 12 exams. Jeeva, the director, said he would wait for me to finish my exams.
After Ullam Ketkume, I did my first Telugu film, Amma Nana O Tamila Ammai.
Did you have any problems with the languages Tamil and Telugu?
I didn't know a single word of Tamil or Telugu when I first came here. I think I have a flair for languages. Now, I do my own dubbing in Tamil and Telugu.
Did you expect Ghajini to be such a huge hit?
When I listened to the script, I knew it would be successful. I am very selective about my projects. I have a few criteria that I look into when I accept films. First, I look at the story, then my character, the director and the banner. The last criterion is the hero.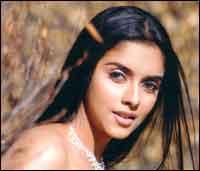 Do you ask for a bound script?
Yes. I insist on a printed version of the story. Most heroines in the industry don't get (scripts) but I make sure I do.
Did you see the film in a theatre?
Yes, on the day of its release, I went to Satyam theatres, sat with the audience and watched the film. The response was overwhelming. The clap, the whistles, the cheers, I enjoyed every bit of it.
I don't think, in recent times, a heroine has got this kind of response from the audience. Usually, the hero always walks away with the applause. Thanks to Murugadas sir for giving me a character like Kalpana. I am overwhelmed by the response that Kalpana got. Theatre owners and distributors called to thank me, which is so rare. Imagine somebody calling a heroine and thanking her for the movie! It is very touching.
You seem multi-talented. Do you sing as well?
I am not formally trained but yes, I do sing. In fact, Vijay has asked me to sing for a film.
I used to hum on the sets and hearing me hum, he asked to me sing in a film. I had joked, 'if you sing, I will sing with you,' not knowing he has sung for films.
Are you getting interesting offers after Ghajini, or is it difficult?
It is very difficult. Most of the offers are the same popular kind of stuff. I am yet to get an interesting offer. That's why I really enjoy the success of Ghajini. In Ghajini, Kalpana is the only comedienne. Only when she appears, the audience gets to enjoy and relax.
She also gets to do the romance, the sentiments and comedy -- there was so much Kalpana could do in the film.
How was it working for Majaa, your other Diwali release?
Majaa is a very light-hearted movie. It has good music and good comedy scenes. That's it.
The film is made a little more colourful for the Tamil audience. In the original Malayalam (Thommanum Makkalum), the heroine was very mature and serious but in the Tamil version, she is changed to suit the Tamil audience and me.
Do you miss college life?
Not really. I enjoy being an actress. Actually, I am writing my final year BA this year. I will graduate in English Literature. This year, I didn't attend any class. Last year, I attended only seven days, and 15 -20 days in the first year!
Your father always accompanies you for shoots. Is the industry a bad place for a young girl to be all by herself?
It depends on how you are. I don't feel scared being alone. I am very independent. But my father wants to be with me because he feels that he should be there for me in case I need him. I am very happy that he's with me because I don't need a manager to look after my career. My dad does everything for me. It is so much easier to manage things when it is your father who is taking care of things for you.
Do you miss having fun with friends like other college girls?
I still have my old friends. Whenever I go home, they meet me, and we have a blast. But I enjoy what I am doing. Only when you are not enjoying what you are doing, you miss something else. I will quit whenever I find that I am not enjoying my career. I take a break on very special days like Onam or my birthday.
Who are your best friends?
My parents are my best friends. There is not one single thing that I have not told them. We are a small family, so I am used to sharing everything with my parents. Our dinner table conversations are about what all happened that day.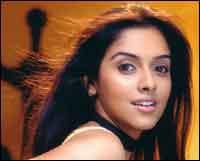 There was a news item that made headlines a couple of months back. It was about a woman from Coimbatore who cheated a man of gifts and money whom she met on the Net by showing your photo as hers. Were you flattered or did you get angry?
I felt bad because she used somebody else's identity for a bad cause. I felt bad for the girl first because she was disabled. But she exploited the man. I also felt bad for both the people because you never know what goes through the minds of people.
Have you been mobbed yet?
I have not yet been mobbed in Tamil Nadu as I haven't gone out much. In Andhra, there is such a craze about films! I had to sneak through the back door when I went for an award function there! I like it to an extent because they give a lot of respect to film stars. All they want is an autograph, or a handshake or a photo with you.
What do you do when you have free time?
I read a lot. I spend a lot of money on books. At the airports, you will find me only in bookstores. I read a lot of fiction. I have a big library at home.
My flat is on the tenth floor overlooking the Arabian Sea. You can see the sunset from my window and balcony. The perfect day for me would be snuggling in the favourite corner in my room near the window on a rainy day. That's bliss!