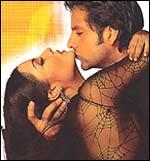 Lucky (Fardeen Khan) has lucked out in the father department of his life. He has never had a 'proper' father.
Janasheen, the two-and-a-half-hour film, deals with Lucky's lack of a definitive father figure. Built around this father-son equation is a convoluted story involving everything from super bike racing in Australia to the 1981 Afghanistan war.
Lucky's biological father Virender Kapur (Harsh Chayya), is away pursuing wealth, when his wife dies of cancer in Australia. Lucky holds it against his father and shuts him out of his life.
| | |
| --- | --- |
| | More on Janasheen! |
| | |
Saba Karim (Feroz Khan) is a fugitive from Afghanistan. His dead son bears a striking resemblance to Lucky. Saba is also the kingpin of the underworld across the globe. A devout Muslim, he owns a pet tiger.
In an effort to buy Angaara, a prime property that Virendra Kapur owns in India and refuses to sell away for sentimental reasons, Saba has him killed. What he does not know is that Kapur is his Lucky's real dad.
There begins his guilt and conflict. And later, while waiting by a chopper on the top of a building on the day of Eid, he redeems himself.
This is one layer of the story.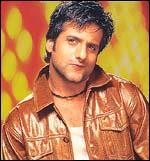 Then there are the women who fight over Lucky. Bringing up Lucky in Australia and giving him the love of a mother is Aunt Martha (Archana Puran Singh). Young and sexy, Aunt Martha refuses to let Lucky go to India, join his father and inherit the millions.
Then there is Fardeen's sweet girlfriend whose father sponsors Lucky for the selection for the Super Bike racing championship.
But the one girl who has loved Lucky all her life is the beautiful Jessica (Celina Jaitley). A violinist with blurred vision, Jessica knows everyone's secrets but shuts up because Lucky's life is threatened -- at any point in the film. So in a brave act of martyrdom, she refuses to show her love for Lucky and lets him go.
Lucky returns to Australia from India to pursue his single most burning desire: to become a top biker. Under the fatherhood of Saba Karim, Lucky goes back to his old girlfriend and his bike, only to be told the truth by Jessica later, who just cannot take in the lies and deceit anymore.
After Lucky knows who killed his real father, he confronts Saba Karim.
Phew!
Added to this cluttered mélange, here is some more baggage:
The Max Factor: Jessica's brother Max killed his father because he was an abusive alcoholic. He spends ten years in a remand home and now wants to get rich.
The Biker Chick: A coke-snorting woman who insists on being called Lady. She kills and then gets killed.
Johnny Lever plays the uncle/friend/karate champ/animal lover with his usual facial contortions.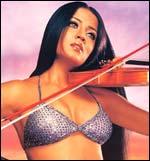 All these propel the film all the way to that elusive end.
Janasheen is Feroz Khan all the way. Even with kajal in his eyes and smart suits dripping with style and attitude, there is no hint of good acting.
Fardeen is eye candy and breezes through the film with his signature nonchalance. Celina Jaitley could not have chosen a better film. All she has to do is look good, which she does, and cry, at which she isn't very convincing. The minimum acting skills required for this role suit her fine.
The romance between Lucky and Jessica is boring. One would expect more out of a childhood crush.
The children who essay young Fardeen, Celina and Max are cherubic but one is glad that they grow up in the second reel.
The music of the film seems moody. It sounds good once in a while, but often too loud. The production values are impeccable, minus the continuity errors, which plague most films.
The bike-racing scenes are thrilling. Cool editing and music work well here. Perhaps the movie could have used more of the bike-racing story. After all, how many Hindi films have bike racers for heroes? 
An interesting theme of the film is its spirit of national unity and integration. Hindus, Muslims and Christians co-exist in harmony. Religion is not an issue in the film at all.
Overall, the film is eye-candy. Skin and the landscapes of Australia are in lush abundance. 
Like any Feroz Khan film, watch the film only for style.

CREDITS:
Cast: Feroz Khan, Fardeen Khan, Celina Jaitley
Director, producer, editor: Feroz Khan
Music: Anand Raaj Anand, Channi Singh, Biddu, Mrinal Sampat, Sukhwinder Singh
Story: Suparn Verma