On January 12 this year, a foreign expert on Indian stock markets was seen on a TV news channel tearing into Reserve Bank of India Governor Yaga Venugopal Reddy.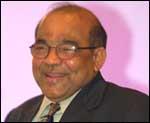 Within hours, senior bankers were condemning the stock market expert. "Would an Indian dare say such things about Alan Greenspan on a US TV channel?" they asked.
The provocation for these extreme reactions was an academic discussion by Reddy that evening while releasing the India Development Report 2004-05 of the Indira Gandhi Institute of Development Research. What did Reddy say? That a view needs to be taken on capping foreign institutional investors' inflows into the markets. He also suggested monitoring the "quality and quantity" of FII flows.
Chakravarty Rangarajan, Former RBI governor
"Reddy is a good administrator and an economist with an analytical attitude. In today's policy making, it is extremely important to have intimate knowledge of markets and institutions, and he possesses that.
If you read his speeches, you'll find that he always builds an argument step by step saying firstly, secondly, thirdly etc.
It's a very different style of writing which shows remarkable clarity. Reddy has been doing a very fine job. Soon we will have a Reddy era."
Finally, he asked the authorities to examine the efficacy of "price-based measures such as taxes (on FII flows)", though their effectiveness was arguable. He was frank enough to admit that quotas or ceilings on FII flows, as practised by certain countries, might not be desirable at this stage, but that there was merit in keeping such an option open and exercising it selectively, as needed.
By the time Reddy came back to his office on Mint Road, his mobile phone was ringing and RBI executives on the lobby of the 18th floor (where the governor's office is located) heard him talking to Finance Minister P Chidambaram. The FM later appeared on TV channels to clarify that there was no proposal to cap portfolio inflows or tax them.
At a hurriedly convened press conference at RBI late in the evening, Reddy made it clear that personally he was "not in favour" of a ceiling on foreign funds inflows. Those who checked the RBI website later that evening found that minor changes had been made to his IGIDR speech, which had been put up earlier.
Almost everybody in the financial world privately say the RBI governor's concerns on quality of inflows chasing Indian securities is extremely valid. Even now, they wonder whether it was a faux pas or a deliberate comment by the governor to check out market reactions on hot money. This is quintessential Reddy. Always evoking extreme reactions. And keeping people guessing.
Back in 1997, Reddy, as deputy governor, had caused panic in the foreign exchange market with another seemingly irresponsible comment on the rupee. On August 15, 1997, at a gathering of forex dealers in Goa, he said: "As per the real effective exchange rate, it would certainly appear that the rupee is overvalued." The next day, the local currency tumbled.
Bimal Jalan, former RBI governor
"I have high regard for him for two reasons. First, his complete integrity. There are very few civil servants like him who are not self-centered. He does not want to please any bureaucrat or minister. Second, his devotion to work. Intellectually, he is very open. He is on the right track on monetary issues."
The country's financial system grappled to figure out whether the reference to an overvalued rupee was unintended, or a deliberate ploy to push the rupee down when the rupee was rising to new highs against the greenback.
Today, if one asks him what his most important moment at the central bank has been, he will promptly point to the same Goa speech. This was the first time the central bank talked the market. The RBI wanted to convey a message and see how the market reacted, and Reddy was chosen to be the messenger.
Rarely has an RBI governor evoked such extreme reactions. There are people in the financial sector who feel Reddy does not get along with the finance minister. Some of them even wrote him off after his January speech on FII flows.
Others swear by his relationship with Chidambaram. "There is no strain in their relationship. Reddy can convince the finance minister on anything. He raised the rates twice even as Chidambaram was talking about benign interest rates. No governor can do this unless he enjoys the FM's absolute confidence," says a bureaucrat in North Block.
His predecessors at RBI talk highly of Reddy's integrity, intellectual honesty and knowledge of money matters. Some contemporaries, however, say he is not open to ideas.
S S Tarapore, former deputy governor, RBI
"He is one of the rare persons who hears and listens and builds on it... Another striking feature is his accessibility...anybody can walk up to him. What strikes me most is Reddy the human being. You hurt him and still he takes care of you. He is one person who does not hold any grudge against anybody. Reddy works for the common man.
He sincerely believes that the banking services are not meant only for the elite. He is extremely sensitive to the needs of the common man. "
They point out that Reddy-the-deputy-governor was very different from the Reddy who sits in the corner room of the 18th floor as the country's Chief Money Man. Former RBI deputy governor S S Tarapore, Reddy's immediate predecessor as deputy governor, has an interesting take on this argument.
"The role of the governor is very different from that of a deputy governor. The buck stops there. When a deputy governor becomes the governor, one must change. Those who are not comfortable with his change possibly wanted him to remain deputy governor." Tarapore knows what he is talking because he had seen Chakravarty Rangarajan both as deputy governor as well as governor.
Rangarajan was instrumental in bringing Reddy to Mint Road. Why did he zero in on Reddy as Tarapore's successor?
"I was primarily looking for an economist who has an understanding of the system and has some administrative knowledge. He is a good administrator and an economist with an analytical attitude. He has grown in his job."
Bimal Jalan, who many believe had played a role in choosing Reddy as his successor, is equally effusive. "I have high regard for him for two reasons. First, his complete integrity. There are very few civil servants like him who are not self-centered. He does not want to please any minister... Second, his devotion to work. Intellectually, he is very open," points out Jalan.
Reddy always speaks his mind; that could be the reason for the extreme reactions. For instance, his views on FII money is extremely valid but it could have been better timed.
Similarly, his handling of HSBC's buyout of the UTI Bank stake also drew flak from the international press. In June last year, HSBC was allowed by the regulator to pick up 14.62 per cent stake in UTI Bank although it wanted to buy 20 per cent. However, the formal RBI clearance took eight months to materialise. And, finally, RBI asked HSBC to bring it down to 10 per cent.
RBI insiders claim that HSBC never kept the regulator informed about the deal and sought its clearance only after it was finalised. HSBC feels that had it gone to the RBI well before the deal was struck, it could have amounted to leaking extremely market-sensitive information.
Nobody is sure what actually transpired behind the scene, but the banking community by and large feels the RBI could have handled it better, even though it is widely acknowledged that at this stage it is not wise to open the acquisition doors for foreign banks, and time must be given to local players to put their house in order.
Possibly, communication is one area where Reddy is not very hot. Last April, when the rupee was hitting the roof, former FM Jaswant Singh insisted it was part of the Reserve Bank's inflation management (by making the rupee strong, you bring down the cost of import), but Reddy went on record saying the gain of the rupee was on account of a huge foreign funds flow that came into the system following the public floats of a few public sector undertakings.
"He is very ethical and can't compromise on his stance," says an RBI insider. For instance, if a bureaucrat or minister calls the governor's office seeking a routine favour, Reddy may not take the call. His predecessor, Jalan, would have spoken to the person and explained why it cannot be done.
There are other critical views too about his functioning. Some colleagues find him too dependent on outsiders.
T L Shankar, retired civil servant
"I knew Reddy before he joined the administrative service, when he was a lecturer at Osmania University.
He took a year's sabbatical to study at London School of Economics.
He is well organised, works very hard, [is] outspoken, clear headed and has absolute honesty -- not a very common virtue."
"For almost everything -- right from the guidelines on external commercial borrowings to monetary policy -- he has set up committees and depends on outsiders, some of whom have already left the system. This often gives the impression that he does not have confidence in the RBI brass," says an insider.
But others see this as part of Reddy's "consensus" approach to policy issues, which was first introduced by Jalan. Jalan, who has known Reddy over 25 years in various capacities, allowed discussions on every issue with his own colleagues too.
There were many instances where Reddy had a different opinion and Jalan put up both views to the finance ministry, but ultimately took his own decision as the final authority. In that sense, Reddy too is his own boss and never allows others to take decisions on his behalf.
T L Shankar, a retired civil servant who has known him for decades, says Reddy can master any subject. "He is a voracious reader. Give him six months and he will master it. All of us felt that he was most suited to be finance secretary but he went to the RBI as deputy governor," Shankar says.
As joint secretary, economic affairs, in the finance ministry Reddy was in charge of the transition of the exchange rate system from a fixed rate regime to the current convertible regime through the Liberalised Exchange Rate Management System.
By any standard, this was outstanding work but he was shifted out of the finance ministry to the ministry of commerce with virtually no work. The reason, people say, is that he was not particularly popular with the IAS lobby. When he was about to resign from the banking division in 1996, Rangarajan persuaded him to come to the RBI.
After he became governor, he introduced Hyderabadi biryani at the quarterly senior editors' lunch at RBI. On a more serious note, he has made major fundamental policy changes on the banking turf. He is not willing to allow foreign banks to enter India with big money and buy out local players overnight. He is not willing to encourage commercial banks to deny the customers their rights to basic banking services.
He is also concerned about the quality of foreign funds flow. And he is not apologetic about his stance. Not surprisingly, he is unpopular in certain quarters. But, as Jalan says, on monetary issues he is always on the right track.
Anybody who met Reddy at the IMF office in Washington when he was serving as executive director, before taking over as governor in September 2003, knows the other side of Reddy.
Whenever an Indian guest arrived at his office, Reddy would go to the tea vending machine and fetch tea in paper cups along with a packet of peanuts. He would spend hours discussing the Indian financial system, trying to figure out what should be done to make it stronger and infallible.
A 1964 batch Indian Administrative Service officer, in his first four years he was transferred eight times. But his is one of the rare cases when an RBI governor has been given a five-year stint at one go. No wonder that Rangarajan predicts a Reddy era in the Indian financial system.