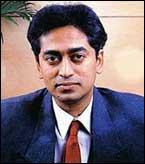 How is Rajdeep Sardesai, who quit as managing editor of New Delhi Television on April 17 to begin his own start-up Broadcast News along with TV18 promoter Raghav Bahl, going to raise the funds to manage the channel?
That is the question doing the rounds in electronic media circles. Experts estimate that Rajdeep will need about Rs 750 crore (Rs 7.50 billion) to turn his dream into reality to launch his 'journalist-driven' channel.
"Raising the funds is not going to be a problem. Raghav Bahl's TV 18 is going to pick up 74 per cent of the total stakes," said a close Rajdeep aide.
I plan a journalist-driven channel: Rajdeep Sardesai
"Rajdeep, Samir Manchanda (ex-CFO, NDTV) and Sagarika Ghose (Rajdeep's wife) would chip in with the rest of the money. Manchanda has already spoken to various financial institutions that are willing to put money in the new channel. Since Bahl is doing work for CNBC television, he hopes that the parent company would also come to their rescue and invest Rs 150 crore (Rs 1.50 billion) to make the venture viable," Rajdeep's aide added.
According to sources the new channel is likely to become operational by the middle of September this year, but it could be delayed by a month or two.
Two floors have been bought at Videocon Towers in the Jhandewalan in New Delhi to set up news studios and other infrastructure for the proposed channel's operations.
Whether or not the new channel would be able to catch the attention of the people is also being hotly debated in the media circles.
"Rajdeep's exit may not create ripples at NDTV, but it certainly has made a dent in its reputation. His popular programme The Big Fight has been shelved for the time being. The fact that NDTV promoter Dr Prannoy Roy has been forced to do stories shows the kind of impact Rajdeep's exit has had." a top NDTV reporter told rediff.com over the phone on Wednesday.
"He was indeed the star of our organisation. New arrangements are now being put in place. Barkha Dutt and Srinivasan Jain are to be given new responsibilities; with Barkha becoming NDTV's managing editor," the reporter said.
"At the moment a team of top professionals has been formed to take the decisions which earlier were taken by Rajdeep. At an editorial meeting, Prannoy Roy admitted that Rajdeep's exit has hit him, both, emotionally and professionally. And it would take a while to come out of it," the reporter added.
Although not many reporters, producers or anchors have quit NDTV with Rajdeep so far, media circles say that the exodus would come in couple of months, particularly as the Broadcast News launch date comes closer and the studios and other things are put in place.
Bhupinder Choube, NDTV's ace correspondent who has been covering the Bharatiya Janata Party and other political parties, is being tipped to be Rajdeep's right hand man. Shivnath Thukral, who has excelled in business reporting, is yet another name that is being mentioned in this regard.
Some of the producers who worked with Rajdeep on The Big Fight are also expected to quit and join hands with him at hefty salaries.
Sources said what hurt Rajdeep more than anything else was the fact that salary-wise he figured sixth on the NDTV list after Prannoy Roy, Mrs Roy and three others. He felt insulted when the figures were made public by NDTV, sources said.
"Rajdeep was a star who slogged day in and day out for the company to produce the best programmes. He rarely took an off day and worked round the clock when the situation so demanded. While Narain Rao, Managing Director, got Rs 50 lakh (Rs 5 million) per annum, Rajdeep's salary was Rs 36 lakh (Rs 3.6 million) per year," sources said.
According to market sources, Rajdeep has received a huge amount -- about five times his NDTV salary -- as the signing amount from TV 18, along with a brand new Toyota Corolla.