Javagal Srinath, India's pace spearhead in the last decade, joined the voices calling for the appointment of a bowling coach for the Indian team.
Giving instances of world-beating teams right from the 1960s, he said India hasn't been able to dominate world cricket because it lacks quality pace bowlers.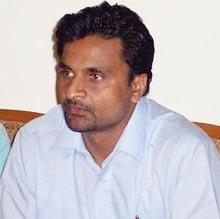 "The fast bowling department in India has been orphaned," said Srinath, speaking at a symposium, organized by the Sports Journalists Federation of India in Mumbai, on Wednesday.
"If India wants to win matches in all parts of the world they must have at least four to five international class fast bowlers."
He rated Zaheer Khan as the best pace bowler in India at the moment, but said India has to find other bowlers to support him so that the team can pursue a rotation policy like the Australians.
"Fast bowling is all about conserving energy. Recently, I was speaking with bio-mechanics expert Daryl Foster from Australia and he said that fast bowlers should make every delivery count. Every delivery that they send down should be at the batsman's weakness."
He revealed that the Australian team has taken shots of the last 23 dismissals of English batsmen and marked out their weak areas and the bowlers have been directed to keep that as the line of attack.
Insisting that by expressing his views it does not mean that he has aspirations of becoming India's bowling coach, Srinath emphasized the importance of technology in modern-day cricket and said the Indian team needs to embrace it before it loses out in the race.
"Technology is here to stay. It has a lot of advantages and can throw light on many hidden aspects of the game."
The 36-year-old also appealed for bowler-friendly tracks so that the pacemen don't get demoralized at the first-class level itself.
"The problem is that most of our captains, at the international as well as the domestic level, are batsmen and dictate the nature of the pitch. But if you want to produce fast bowlers that will perform in any country, you have to give them encouragement. First up, they should be able to perform to their potential in India."
He lamented that the country had never given importance to fast bowlers or persisted with them through the failures.
"During my stint with the Indian team I worked with 26 fast bowlers. You cannot expect to build a pace team with that sort of impatience. Everywhere in the world we see that fast bowlers complement each other and help each other take wickets. In India, we have played with three spinners and one fast bowler for most of our history.
"Till the day before the match I would think about whether I am going to be in the playing eleven. Because of this it used to boil down to personal satisfaction. I would be happy that I was selected and look at my wickets column."
Srinath said India's current crop is good but it needs to widen the base so that the bowlers, through rotational policy, would get enough rest and not break down regularly.
"I still say Zaheer Khan is the best bowler we have right now. But he lacks in confidence because he's been in and out of the team.
"Dropping a player is a cruel indication that he has failed to graduate to the next level."
He added that Irfan Pathan needs to be encouraged right now so that at the age of 27-28 he would have a wealth of experience that's needed to be a top class bowler.
"It's the right age. He needs to be there for 12-15 years so that he can pick up around 500 wickets for himself and the country."